So your cellular data not working on your iPhone 7? Sometimes we get to reach a place where we are unable to find any network and sometimes there are networks but our mobile is not able to register on that particular network. This makes us so irritated and at that time we think that to change my cellular service provider? Don't worry we are here for your help with a superb method by which you can fix cellular data not working on your iPhone 6 or 7 or any other model. Some of you might be thinking that this is not the actual case for you, don't worry this method is going to help you in every case.
Part 1: Possible reasons that celluar data is not working
They are multiple reasons that your mobile data not working, in most cases, we are having three possible reasons that are software, hardware, and network issues.
Software
Most of the time our iPhone's firmware doesn't work properly. The software may get crashed due to glitches or bugs that come with the new iOS firmware updates. Or at times, the viruses or malwares can also create hindrance and may cause your iPhone not to connect to the cellular networks. Eventually, you may experience cellular data not working on iOS 12 or 13.
Hardware
Most of the time whenever we accidentally drop our mobile it may get affected from outside but it can get some damage from inside and that can be mobile's motherboard or SIM tray. Maybe your SIM tray or network antennas are broken. You need to get them check from the nearest Apple store as soon as possible.
Network
This happens many times that you have reached an area where there is no network of the SIM you are carrying. There are several network companies that have not covered some areas with their network. Network issues can be one of the main issues that iPhone cellular data is not working.
Part 2: Enable cellular data in the ON position
Remember, that if there is no mobile data on your device, it could be because the Mobile Data/cellular data is turned off. Turning Mobile data On may consume data charges, so make sure you do have an active data pack.
Perhaps, you might also be thinking that my mobile data is on but not working, correct? Well, at times, we do feel so but actually the connection is just not established with the service providers. In such cases, follow the steps below to turn Off and then On the mobile data option to refresh the connection to the internet.
From the home screen, tap Settings.
Tap Cellular/Mobile Data.
Next to Cellular Data/Mobile Data, tap the toggle switch to disable it and then after a few seconds enable it again.
What this will do is, it will refresh the network and your device may now be able to re-establish a connection with your network provider. Once it happens, your cellular data will start working automatically.
If still your iPhone cellular data is not working then you follow our next method. We believe it is definitely going to help you if the problem is related to the iOS firmware.
Part 3: Try dr.fone – Repair to fix ios system crash problem
If none of the aforementioned steps works for you, then you should seek help of a highly efficient and reliable tool to fix your iOS related problems. For this, dr.fone - Repair sounds to be the most viable solution. This is because it is one of the most powerful software to solve all iOS related problems occurring in your iPhone just by performing simple steps. Moreover, your iPhone lte not working or mobile data not working will also be resolved without a hitch.
Step 1: Install and launch dr.fone toolkit. Now, launch it and then select "Repair" from the main interface of the software.
Step 2: Now, connect your PC and iPhone with an original lightning cable. As soon as dr.fone – Repair will be able to identify your iPhone device, it will display two options: Standard Mode and Advanced Mode. Select the former one and proceed.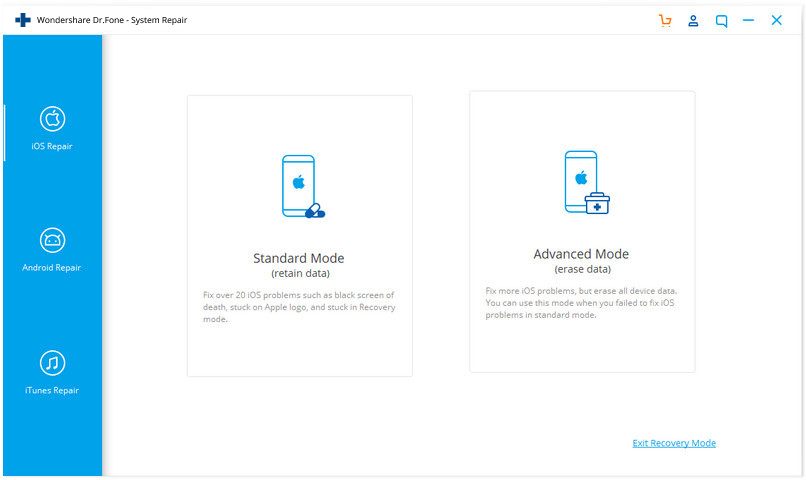 Step 3: From the next screen, click on Start button to allow the tool to download the firmwareyou're your iOS device.
Step 4: After download completes, hit on Fix Now button and it will start fixing your iPhone.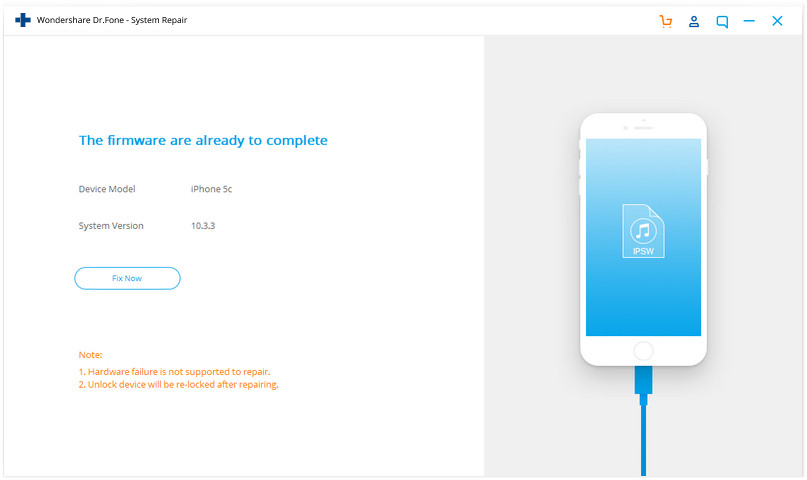 Part 4: Force to restart iPhone
Force restart is one of the most effective way to clear out minor glitches like cellular data not working on iPhone. Follow the steps below to fix issues on your iPhone variant respectively.
For iPhone 6 or below:
Get hold of the "Power/Side" button and the "Home" button simultaneously till the Apple logo flashes on your screen. Let go the buttons now and let your device reboot.
For iPhone 7:
First, ensure to keep the "Power/Side" and the "Volume Down" button down altogether until the Apple logo flashes on your screen. Let go the buttons now and let your device reboot.
For iPhone 8/X/11:
Quickly, hit the "Volume Up" button and then hit the "Volume Down" button.
Now, hit the Power button but keep holding it down until you see Apple logo flashing up.
Let go the buttons now and let your device reboot.
Part 5: Connect cellular carrier
After trying a number of methods still you are not able to solve your iphone cellular data not working problem, then you have to check your cellular carrier once. Call up your cellular service provider to verify if there are any service outages in your area. If there are some technical issue going on, then wait for it to get back to normal. If not, try performing the following steps to update your cellular carrier settings on iPhone.
Tap on Settings.
Go to General.
Then, About and select Diagnostics & Usage Option.
Tap on the Update button.
Go back to Settings, then Cellular and turn LTE feature to enable.
Part 6: Update your iPhone to the latest
Is there any update pending in your mobile phone's update section? Don't remember? Then, you must check your mobile's update centre whether there is any software update available for your iPhone. Do update your iOS to the latest version of the software. Perhaps, the new update might include the fix for the annoying bug that is making mobile data not working on iPhone. To do the same perform the following steps.
Tap on the Settings icon.
Find General options in the list and tap on that.
Tap on the Software Update option.

Hit on Download and Install, if there's an update available for your iPhone.
Do check out the terms and conditions if you want to, if not then simply click on the Agree.
Wait for the update file to download.
Now you are having the latest update on your device.
Lastly tap on install now to install these updates on your iPhone.
Part 7: Factory reset your iphone
Here is the last method by which you can fix mobile data not working issue for sure. This method will reset your mobile to the first look when you purchased your iPhone. The factory reset method will erase all your data from your iPhone. And hence it is recommended that you must get your iPhone data backed up with the help of a powerful tool: dr.fone – Backup and Resore. With it you can not only back up your data but also can restore it whenever you want. Also, you can even preview the data before restoring it back to your iPhone.
Now, in order to factory reset your iPhone, you have to perform the following streak of steps listed right below:
Click on the Setting icon in your mobile
Go to General tab
Search for the Reset option on the list.
Tap Erase all Content and Settings.
And confirm your actions to reset by tapping Erase iPhone.
Final Verdict
So these were some of the best and easy methods that can help you to solve the cellular data not working on iPhone 6 or iPhone 7. We have crafted all these methods on our own to help you out from this problem where cellular data not working iOS 12 or any recent iOS version.