"Hello! One of my friends use iPhone 7 Plus and yesterday he called me to share a problem with his iPhone. Actually, he is facing recovery mode loop and unable to get out of it. Can you help me so that I can convey him how he can get his iPhone 7 Plus out of recovery mode loop. Thanks in advance!"
Recovery mode loop is a situation where your device reboots in recovery mode every time you restart it and then gets stuck in endless recovery mode. You might not believe but 9 on 10 users face this issue daily. And we can understand how frustrating it can get. If you have also the same complaint as the above mentioned user, this post will let you not ask for more. We will go through some of the easiest ways to get rid of the problem when iPhone gets stuck in recovery mode loop. Without a further ado, let us begin to know more about the topic.
Part 1: 5 Scenarios make your iPhone stuck in Recovery Mode Loop
We believe that getting knowledge about the cause is always better then directly running for the cure. Therefore, firstly in this section, we will share some of the scenarios that can possibly make this issue happen. Check out the points below.
First and foremost, when you enter and exit into recovery mode and fails to do so, the problem may occur easily.
Many times, it has been reported to be faced by the users due to insufficient memory.
There are times when you think you can perform a specific procedure in your device without being actually aware of it. This way, you can also end up with such issue.
When you update or downgrade the software, the issue can appear.
If you jailbreak your device, this issue is normal to welcome you.
Part 2: Get rid of the Recovery Mode Loop without computer in a Seconds
In order to get rid of the iPhone stuck in recovery loop, one of the wonderful and result-providing ways is to reboot the device forcefully. By doing this, a large number of people have attained positive results. Also, it just takes a few seconds. So, please follow the steps mentioned below to follow this easiest method and get the problem solved.
For iPhone 6 series and the previous Models:
Those who are suffering with iPhone 6 recovery mode loop and those who are using earlier models than this, they need to press the "Home" button and the "Power" button for long. When you see the Apple logo emerging on your iPhone screen, release the buttons. This will take nearly 10 seconds. Now, your device will be rebooted and hopefully the recovery mode loop issue will end.
For iPhone 7 and 7 Plus:
If your iPhone 7 is stuck in recovery mode loop, keep pressing the "Volume Down" and the "Power" button for approximately 10 seconds. When Apple logo comes up on the screen, ensure to leave the buttons and hang on until the device gets rebooted. Now see if it works properly.
For iPhone 8, 8 Plus, X and later Models:
These models have slightly different process. All you need is to press the "Volume Up" button and quickly release it. Do the same with the "Volume Down" button. Now, long press the "Power" button and wait until the Apple logo appears on the screen. Your device will reboot making the problem vanish.
Part 3: Restore your iPhone with the help of iTunes to get out of Recovery Mode Loop
If the above method has not solved your issue, you can try restoring your device. Nevertheless, please ensure to take the backup of your device as this method is able to wipe away your existing data. Hence, if the data is important to you, backup and proceed with the following steps. Make sure your iTunes is updated and you are not using any defective or unoriginal lightening cord to connect the device.
Connect your iPhone with the Windows or Mac computer and open iTunes.
Click on the device icon located at the top left of the iTunes interface.
Hit "Summary" from the left panel and then choose "Restore iPhone" from the main screen.
Part 4: Better Alternative to iTunes dr.fone - Repair (iOS) to fix without data loss
There is no denying that iTunes frustrates many a times while we work with it. There could be slow or complex process or many times the occurrence of the error codes. Well! You don't have to worry if you dislike iTunes and wish not to work with it for resolving iPhone stuck in recovery loop. We have a superior alternative to serve the purpose. You can just use dr.fone - Repair (iOS) – a tool meant to fix the iOS system easily. It claims to work sans any data loss or complications. With a hassle-free process, it can work with any of the iOS device effortlessly. Fixing any kind of iOS or iTunes issues is pretty possible with this tool. We will now understand how you can use it to fix the iPhone recovery mode loop. Here are the instructions.
Step 1: Get the Software Downloaded
Download the tool on your computer and install it. When installation is completed successfully, you are supposed to click on the "Repair" module given on the main screen.
Step 2: Mode Selection
Next, connect your iPhone to the computer via a genuine lightening cord. After it is connected successfully, click on the "Standard Mode" from the following screen.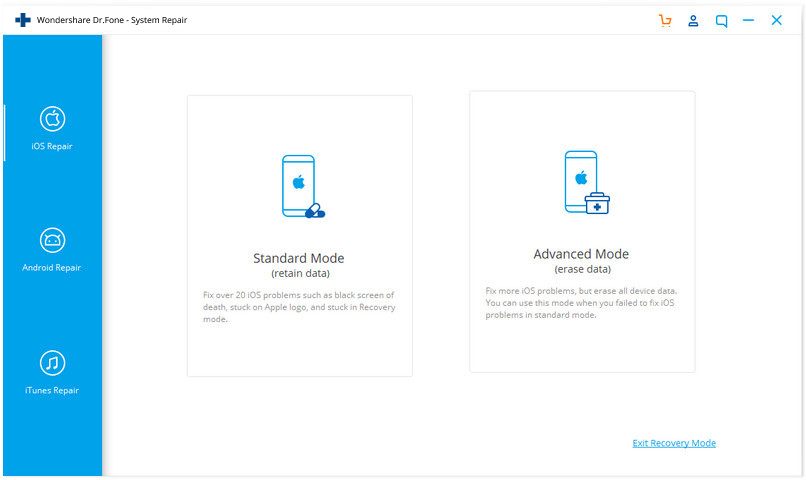 Step 3: Start the Procedure
The program will now detect your device and you will be able to see the iPhone details and the iOS system version properly on the screen. Click on one of the version and then choose the "Start" button right after that.
Step 4: Get the Firmware
Just after you click the button, the iOS version will be downloaded on your PC. Switch to the stable internet connect if you are not and stay there until the downloading gets done. If downloading isn't going successful, click on the "Download" button for manual downloading.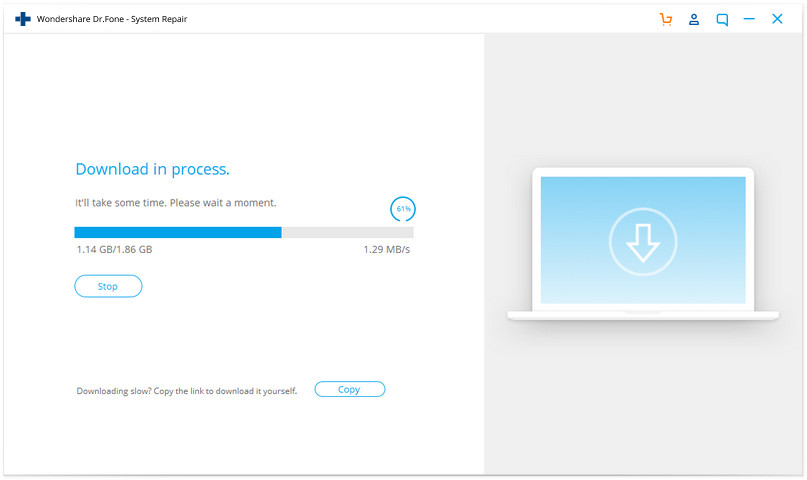 Step 5: Fix Recovery Mode Loop
Your downloaded firmware will be verified now and you are supposed to click on the "Fix Now" button. The issue will begin to get solved and within a while, your device will be back to normal functioning.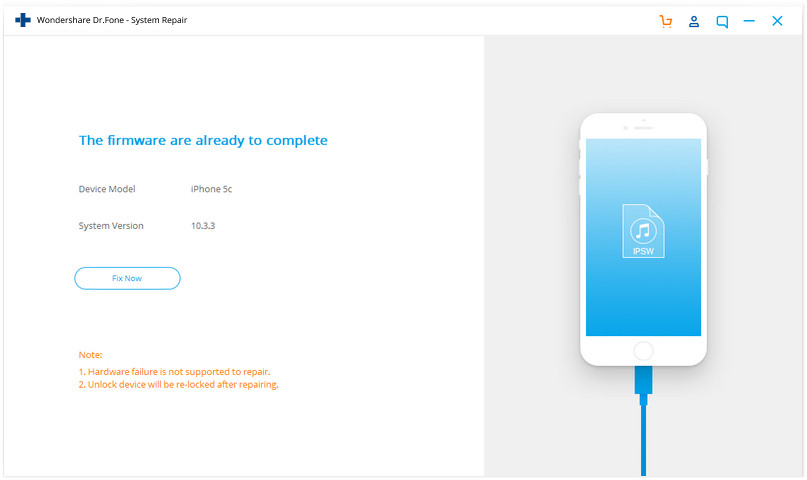 Part 5: Free tool to solve the problem – TinyUmbrella& Recboot
If you want a free tool, we have solution for that too. In this part, we will introduce you two tools as mentioned in the heading. Let us go further to know more.
TinyUmbrella:
The tool is commonly known for jailbreaking or downgrading the iOS devices. Besides,the iPhone recovery mode loop can also be resolved with this. Please have a look how it can be done.
Begin with downloading the tool on the computer by selecting the version as per the operating system on your PC runs.
Establish connection of between device and PC using the lightening cable. Once the tool hets launched, it will detect the device.
Click "Exit Recovery" and wait for a few minutes. Your iPhone will no longer stuck in recovery mode loop.
Recboot:
Another easy and fast tool for fighting with recovery mode loop is Recboot. Scroll to know the guide for it.
Download and install the tool on your computer. Launch once it is installed. There will appear two options – "Enter Recovery Mode" and "Exit Recovery Mode".
Ensure to connect your device to PC properly. Wait until it gets detected.
Lastly, click on "Exit Recovery Mode" and in no minutes, you will be free from iPhone recovery mode loop.
Part 6: Go for help at Apple Store for checking hardware
Sadly, if any of the above tips did not work well for you, it is right time that you should get your device's hardware checked. And for this, all you need is to look for the nearest Apple Store. Walk there and get the problem solved with the help of the technical experts there. They will surely understand the problem and hopefully you will be relaxed.