"I was using my iPhone 6 a while back and all of a sudden, it has been restarted and doesn't move past the Apple logo. How can I fix my iPhone 6 stuck on Apple logo without restoring it?"
This is a query posted by a concerned iPhone 6 user about the malfunction of her device. Unfortunately, the condition is quite common and can happen to any iOS user. Since there are different reasons for this issue, you would have to explore a few solutions. The thing is that most of the fixes would ask you to restore your device to its factory settings. If you have not taken a backup of your data, then this would be a nightmare. Don't worry – we are here to assist you with some working solutions to fix iPhone stuck on Apple logo without restoring the device.
Part 1: Why my iPhone is Stuck on Apple Logo?
Before we discuss different solutions to fix iPhone 7/8/6/5/X stuck on Apple logo without restoring, let's understand its common causes.
A faulty or malfunctioning app could have made your device corrupt.
The storage of your iPhone could have been corrupted or full.
A firmware issue like a beta iOS update or unsuccessful update can cause this situation.
A crucial process (like jailbreaking) was stopped midway.
A virus or malware has infected your device storage.
Any other faulty physical or software component
The bootloader of the device can also be affected, causing it to be stuck.
Part 2: Force Restart your iPhone (according to different models)
To start with, let's get to know the easiest and one of the most effective ways to fix your iPhone. By applying the correct key combinations on the device, you can make it forcefully restart. Since it will not cause any data loss on your device, it is considered as an ideal fix. You can simply try to fix the iPhone stuck on Apple logo without restoring in the following way.
For iPhone 6s and previous versions
Simply press the Home + Power (wake/sleep) buttons at the same time and keep holding them for at least 10 seconds. Release them once your iOS device reboots.
For iPhone 7/7 Plus
Press the Volume Down + Power keys simultaneously and hold them for at least 10 seconds. Let go after when your device would vibrate and restarts.
For iPhone 8 and newer versions
Press the Volume Up key for a second or less and release it quickly. Without wasting any time, quick-press the Volume Down button, and the moment you release it, hold the Side key. Keep pressing the Side button for a few seconds till your phone restarts.
Part 3: Fix iPhone Stuck on Apple Logo within a Few Clicks
For all those users who are looking for a simple yet working solution for iPhone 6 stuck on Apple logo without restoring, dr.fone - Repair (iOS) would be the perfect fix. Developed by Wondershare, it provides a solution to all kinds of issues related to iOS devices. This includes iPhone stuck in the reboot loop, Apple logo, the screen of death, bricked device, and so on. The application provides a user-friendly interface and will not require any technical experience to operate. Also, it is compatible with every leading iPhone mode like iPhone 6, 7, 8, X, XS, 11, 11 Pro, and so on.
The application supports two modes, standard and advanced. If you choose the standard mode, then all the saved data on your device would be retained. That is, you can easily fix iPhone stuck on Apple logo without restoring it via dr.fone - Repair (iOS). All you need to do is follow this simple click-through process.
Step 1. Launch the dr.fone toolkit on your Mac or Windows and pick the "Repair" solution from its home. Also, connect your device to the system using a working lightning cable.
Step 2. Go to the "iOS Repair" section and pick the standard mode as of now as it will fix your device with no data loss.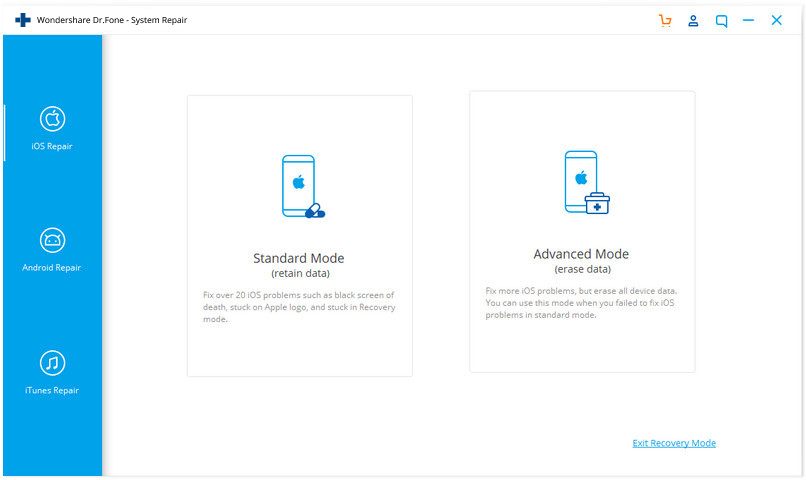 Step 3. In no time, the tool will automatically detect your phone and its details like its model or the compatible firmware. Just verify this on the screen and click on the "Start" button.
Step 4. The application will start downloading the compatible firmware version for your device now. Try to maintain a fast internet connection to speed-up the downloading process.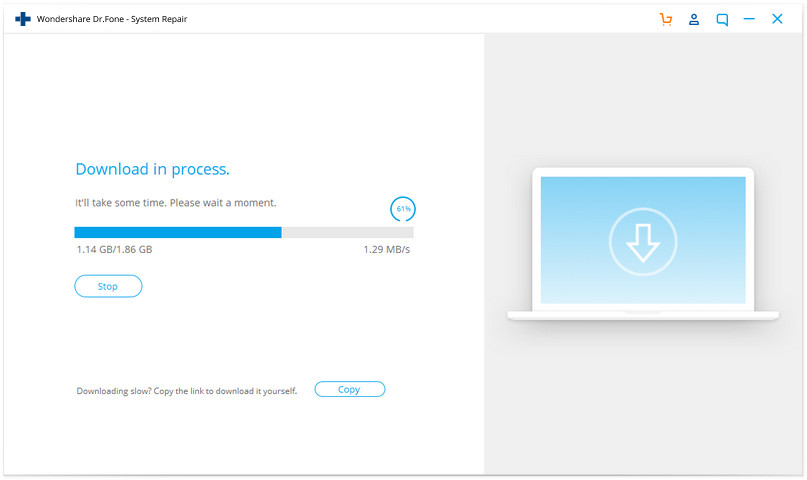 Step 5. After the downloading is completed, the application will automatically verify your device with respect to the firmware version.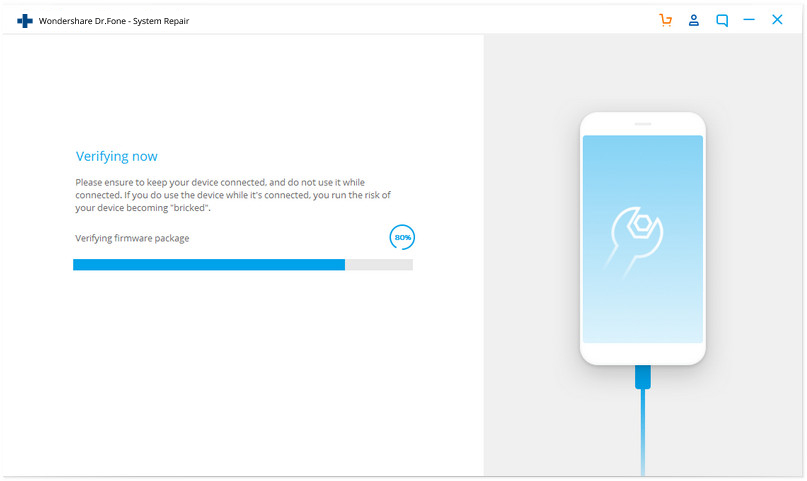 Step 6. Once everything is ready, you will be notified. All you got to do is click on the "Fix Now" button to resolve iPhone 6 stuck on Apple logo without restoring it.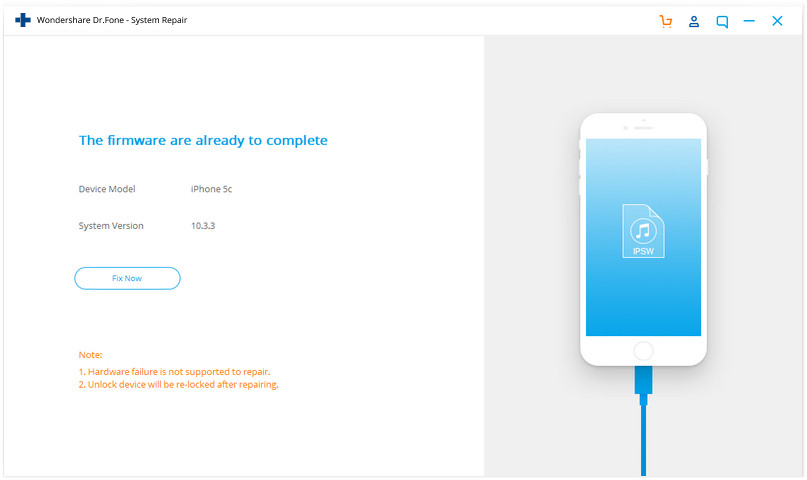 Step 7. Wait for a while as the application would update your device and reboots it in the normal mode. After completing the process successfully, you will be notified with the following screen.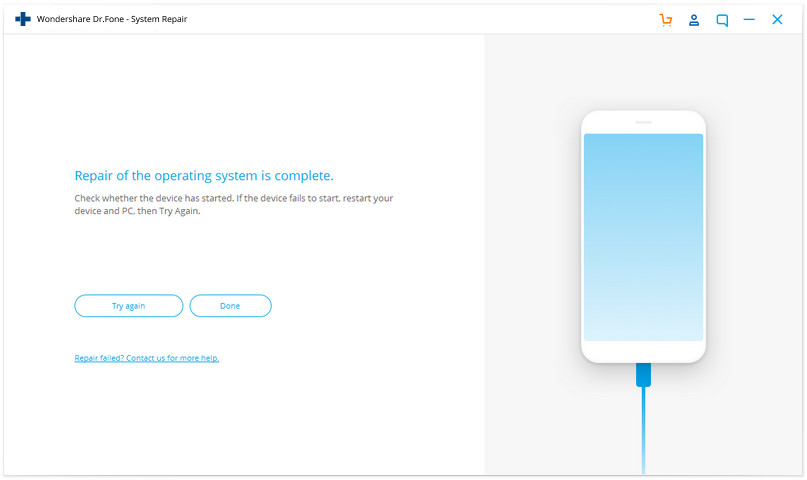 In the end, you can just disconnect your iPhone and use it the way you like. Though, if the standard mode is not able to fix iPhone 6/7/8 stuck on Apple logo without restoring it, then go with the advanced mode instead. Please note that the advanced mode will reset your device and erase its data.
Part 4: Restore iPhone with iTunes using Recovery Mode
If you are not willing to try a third-party solution, then you can consider booting your device in the recovery mode. With the assistance of iTunes, we can restore the device and would fix it as well. Though, you should note that this solution would factory reset your device and wipe off its saved content. That is, the solution is not recommended for those who wish to fix iPhone 8 stuck on Apple logo without restoring it.
In this, we will first turn off the device and launch an updated iTunes application on the system. According to the phone model, the following keys should be pressed.
For iPhone 6s and previous models
While connecting your iPhone to iTunes, press the Home button. Keep holding it for another 5-10 seconds and release once the recovery mode symbol would appear on its screen.
For iPhone 7/7 Plus
Launch iTunes on the system and use a working cable to connect your iPhone 7/7 Plus to it. Hold the Volume Down button while connecting it and keep pressing it for a few seconds. Let go when you see the recovery mode prompt.
For iPhone 8 and later models
Turn off the device and launch iTunes on your computer (make sure it is an updated version). Hold the Side key while connecting it to the other end of the cable. Keep holding it for a few seconds and release after getting the recovery mode sign.
As iTunes will detect that your iOS device has entered the recovery mode, it will display the following screen. You can just click on the "Restore" button to reset the device entirely and fix it in the process. There is also an option here to just update your iPhone to the latest firmware version.
Part 5: Visit An Authorized Apple Store
If nothing else would fix the iPhone 6 stuck on Apple logo without restoring it, then consider visiting an Apple store instead. You can go to the official website of Apple to locate the nearest authorized service center. This will help you get dedicated assistance for your malfunctioning iPhone from a certified expert. Although, this might be a costly affair if your phone has surpassed the warranty period.
Part 6: Pro Tip: Maintain a Backup of your iPhone Data
While iOS devices are known to be reliable, they can malfunction anytime due to numerous reasons. In the process of fixing them, you might end up losing your important data. To avoid this, just take the assistance of dr.fone – Backup & Restore (iOS). With just one click, it will let you take a complete backup of your device. Later, you can easily restore the backup without any trouble. The app can even restore an existing iCloud or iTunes backup to your phone without resetting it.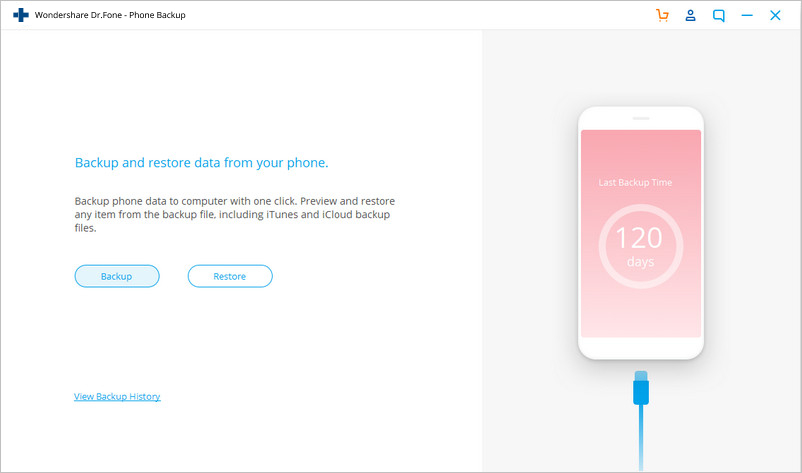 Now when you know how to fix your iPhone stuck on Apple logo without restoring it, you can easily resolve this situation. If you want to get positive results in less time and without any complication, then simply use dr.fone - Repair (iOS). A highly professional iOS system repairing application, it can resolve all the major iOS issue without any data loss. Since it offers a free trial version, you can get a hands-on experience of the tool without spending a single penny.