Having an iPhone makes life more comfortable. It is an excellent device, with great features. But the problem is, what to do if your iPhone 6 won't charge. As we know, the difficulty of the iPhone 6 not charging would lead it to switch off and close your connection with the world for a few moments and also urge you to miss urgent calls. Don't worry! When this issue befalls, you can resolve it with ease. We have prepared 6 effective ways to fix iPhone 6 charging problem. So let's glance at the below solutions.
Part 1: Change another iphone charger
Sometimes, there might be a problem with your iPhone 6 charger. So, when your device doesn't charge, then changing the adapter is the one of the best iPhone 6 not charging solution. Just connect your iPhone to the charger through the lightning cord and plug it into a power source. If the phone doesn't get charged with the adapter, try with a different adapter.
Note: If you were charging your iPhone 6 with a poor quality charger then discard it, as it might reduce the shelf life of the iPhone 6 and ruin it. It's better to purchase the accessories of better quality than feeling regretful later.
Remember: Always confirm that you are utilizing the charger you received in the box with your iPhone 6 is an Apple-authorized adapter.
Part 2: Inspect your charging cable
iPhone is very sensitive and is reliable too. For this cause, most iOS gadgets support only Apple-certified things. Just confirm that you are utilizing an authorized charging cable suitable for your iPhone to avoid iPhone 6 charging problem. Otherwise, the iPhone 6 will not charge. Buying a low-quality charging cable might corrupt the battery life of the gadget or ruin the software. These guidelines will assist in case iPhone 6 plus not charging.
Inspect the cable completely for any damage like twisted spines or breakage. If there is the same sign, then promptly replace it with a new one.
But if in case, the charger has no signs of damage then there is no need to change it.
Part 3: Cool iphone by moving to cooler location
Sometimes, iPhone 6 says its charging, but it's not! You must know that often the reason behind iPhone 6 plus not charging is overheating of the device. So if possible, locate a cool location for your gadget.
But remember, putting your phone in someplace cooler doesn't intend putting it into a freezer, as it will damage your iPhone. In spite of that, you can cool down your iPhone by placing it in front of a fan or under AC.
Another simple iPhone 6 not charging solution is that you can switch off for a few minutes and then restart or operate it once again as its temperature reduced. Even also, do not place your phone nearby something hot or with other working devices and get rid of the phone case during the charging process.
Note: Don't charge iPhone, while it's in the state of high temperature. Because charging heats the device, even more.
Part 4: update iphone to the latest ios version
Make sure that, if there's a new iOS version to update iPhone? If there is, don't delay to obtain it, in case, iPhone 6 won't charge.
From a Home screen, go to Settings > General > Software Update.

Click Download and Install.
Read the Terms and Conditions then click Agree.
Once the software update is finished, slide the unlock switch to unlock the mobile.
Part 5: Factory reset iphone after backup data
The factory reset is the best way to resolve the charging issues of the iPhone. But before factory reset, it's essential to back up data on your iPhone is by taking the assistance of cloud. So, create a backup of your data so you can regain your data later the factory reset. In this method, you can backup your documents without connecting your iPhone 6 to the computer. To back up the iPhone data on iTunes, follow the below steps.
Connect your iPhone 6 to a PC with the latest version of iTunes downloaded
Choose your device in iTunes under Devices
Right-click the device and Click on Back Up
After the completion of the backup process, you can proceed for the factory reset of the iPhone. For this, follow the below instructions:
Click on Settings. Pick General > Reset > Erase All Content and Settings.

Enter your Passcode. If you've inserted up a Restriction Password, you'll require to enroll that as well.
You'll receive an option to 'Erase iPhone' or 'Cancel.' Choose the former.
The factory reset will be performed in merely a few minutes and you're iPhone 6 will be restored to the original state!
Repairing iPhone 6 with the support of dr.fone is an efficient way to fix iPhone 6 not charging issues. It is not only a solution to resolve the problems of the iOS system, but also the simplest iOS system recovery solution with the immense success rate. This is why dr.fone - Repair comes out. It can quickly fix any types of iOS system issues and get your iPhone back to normal. Most importantly, you can manage it by yourself within less than 10 minutes, and won't miss any data.
dr.fone - Repair allows you to relieve from iOS issues for various typical scenarios, such as recovery mode, black screen, and more. Along with this, dr.fone has made this method so simple that anyone can set iOS without any skills.
Step by Step Tutorial
Step 1: Install dr.fone and pick "Repair" from the main window.
Step 2: Now you require to connect your iPhone to your PC with the help of a cable. As soon as your IOS device has been detected by dr.fone , you will see two options; those are Standard Mode and Advanced Mode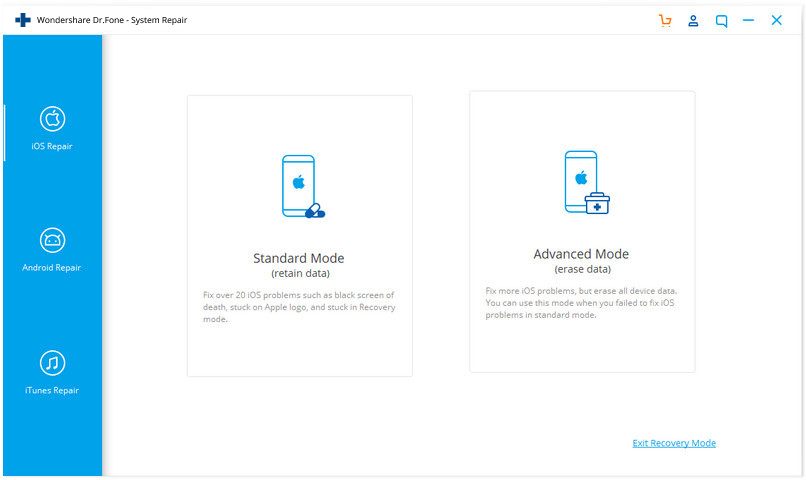 Step 3: Hit "Start" on next screen and the tool will take some time to perform the firmware download process. Confirm that your network is stable during the procedure.
Step 4: Once the download process is completed, the device begins to check the installed iOS firmware.
Step 5: There, you can view this screen when the iOS firmware is confirmed. Tap on "Fix Now" to repair your IOS device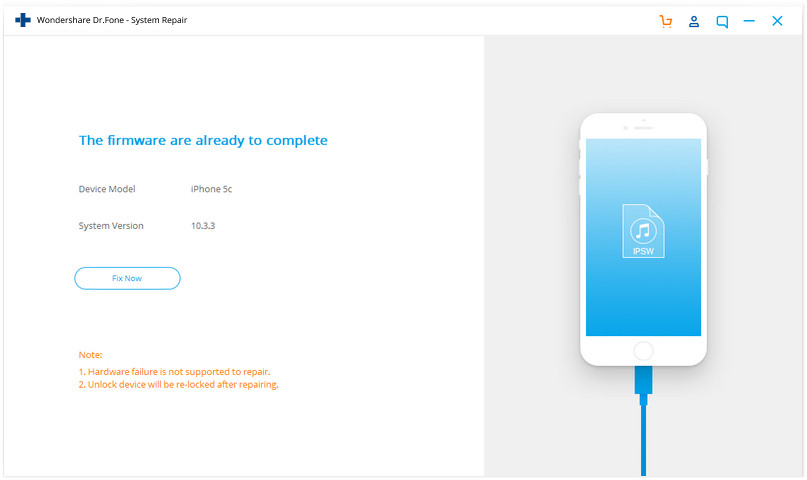 Now you can notice that your iOS device got repaired and working normally once again without any hindrance. Since, all iOS system problems have been resolved, the iPhone 6 charging problem has also been fixed.
Conclusion
These solutions for the problem of iPhone 6 plus not charging go well for iPhone users, and they can follow them one by one. By the way, it is random when your iPhone 6 will face some obstacles, so you require to back up the iPhone data frequently to avoid data loss.