"My iPhone alarm is not working and that is making me late for work every day! How can I fix the iPhone alarm not going off problem?"
As a friend of mine asked me this, I realized the severity of the situation. After all, we rely on our smartphone alarms to wake us up on time or remind us of different things. While iPhone alarms mostly work flawlessly, some users experience unexpected issues with the app. In order to fix the iPhone alarm no sound problem, you need to dig up a few settings. Most likely, after altering some iPhone settings, you would be able to fix this problem. In this guide, I will teach you how to fix the iPhone alarm not ringing problem with 10 different solutions.
Part 1: Why isn't my iPhone Alarm working?
First things first – before we get into the details and learn how to fix iPhone alarm clock not working, let's diagnose the issue a bit. Ideally, following are some of the common issues for a malfunction alarm on your device.
You could have set up your alarm for some other time or day.
The sound on your alarm or the device might not be loud enough.
You could have put your alarm on snooze by mistake.
Any other setting on your device (like DND) can stop the alarm from buzzing.
There might be any other firmware or app-related issue with your device.
The app you are using to set alarms might be corrupted.
Your iPhone might be connected to a Bluetooth speaker.
The inbuilt speakers of your device might not be functioning.
There can be some difference in your present time zone (if you are traveling)
Any other malfunction with the device's system or core components.
Since there could be so many reasons for the iPhone alarm not working, I have come up with 10 of the commonly suggested solutions. You might have to work on a handful of them to fix the alarm not going off on iPhone issue.
Part 2: Volume up the Alarm's Sound
Let's start with some of the easiest solutions for the iPhone alarm not working. Chances are that the volume on your iOS device could be set on a low scale. Therefore, even when the alarm would go off, you might not be able to listen to it. To fix this, firstly unmute your device, and go to its Settings > Sounds & Haptics. From here, you can just increase the sound for alerts and rings.
Part 3: Choose a Louder Alarm Sound
There are all kinds of sounds that we can set up as our phone's alarm. A lot of people choose to set all sorts of soothing sounds like the chirping of the birds or of the ocean waves. While they might seem soothing, they have a major problem – they are just not that audible. Therefore, it is recommended setting a loud and clear sound for your alarm. To do this, just launch the Alarm app on the phone and tap on the alarm you wish to edit. Go to its "Sounds" option to hear and set a new loud alarm tone.
Part 4: Adjust the Bedtime Feature on iPhone
A while back, Apple launched the Bedtime feature that tracks the sleeping pattern of users. It also reminds us to go to bed and has a bunch of soothing alarm tones. Though, sometimes the Bedtime features (and the soothing low-volume tones) might tamper with the native Alarm feature.
In order to fix the iPhone alarm no sound issue, you can just disable the Bedtime feature on your device. Go to the Alarms app and tap on the Bedtime icon from the bottom panel. Now, just turn off the Bedtime feature on your device to make the needed adjustments (like the wake up time or the alarm sound).
Part 5: Check the Alarm's Time and Settings
A lot of times, a minor human error can also make you feel that the iPhone alarm is not going off. For instance, you could have put the alarm for the wrong time or day. To quickly check this, just go to the Alarm app and view the respective alarm that is not ringing. From here, make sure that the timing of the alarm and the am/pm options are correct. Also, check the day of the alarm to be sure that everything is right.
Part 6: Make Sure You Only Have One App to Set Alarms
If you are a regular iPhone user, then you might already know that iOS devices come with a native Alarm app. While the app might not be too fancy, it makes it easier for us to set alarms without using any third-party tool. Nevertheless, a lot of users download third-party apps from the App Store to set alarms. This might cause some clash between both the apps and result in the iPhone alarm not working issue. The best solution is to make sure that you only set alarm on a dedicated app. Also, it is recommended to only use third-party apps from trusted developers. If they are not being too helpful, then you can just get rid of these apps and use the inbuilt feature of your iPhone only.
Part 7: Switch Bluetooth off and Unplug Headphones
This is something a lot of users experience who thinks that the iPhone alarm has no sound. Well, if your iPhone is connected to a Bluetooth speaker or headphones, then you won't be able to listen to the alarm the usual way. This is because its sound output would be redirected to the speaker or headphones. To resolve this, simply remove headphones, AirPods, or any other speaker from your iPhone. Also, go to its Settings or the Control Center and turn off the Bluetooth feature just to be secure.
Part 8: Turn off the Do Not Disturb Mode
DND, which is known as Do Not Disturb, is an inbuilt feature in iOS that was added a while back. If the DND feature is enabled on your iPhone, then you would not get any notification, alert, ring, etc. Mostly, the feature is enabled while driving, sleeping, working, or a similar situation when we don't want to be disturbed. Though, the iPhone do not disturb alarm rarely goes off because of these conditions. To fix this cause, just unlock your device and turn off the DND feature from its Control Center. Alternatively, you can also go to its Settings > Do Not Disturb and toggle off the feature to fix iPhone alarm no sound.
Part 9: Update Your iPhone Software
Sometimes, a beta or outdated iOS version on the device can also lead to numerous issues related to it. The iPhone alarm not going off can be one of the effects of a corrupt or outdated iOS firmware as well. To resolve this, you can just update your device to the latest iOS version. Go to its Settings > General > Software Update to check the latest iOS profile available. Tap on the "Download and Install" button here and wait for a while as your device would download the update. Afterward, your iPhone would automatically be restarted and install the new software.
If you want, you can also enable the option for automatic updates from here as well. Also, avoid updating your iPhone to iOS beta releases as they can make your device unstable at times.
Part 10: Rule out any System Problem with dr.fone - Repair (no data loss)
If you think there is a serious system related issue with your device that is making the iPhone alarm not working, then give dr.fone - Repair (iOS) a try. It is a highly sophisticated Mac/Windows application that can fix every kind of issue with your iPhone. It is fully compatible with every leading iPhone model like iPhone 6, 7, 8, X, XS, XR, 11, and so on. Furthermore, it features a user-friendly interface and is known for its high success rate. The best thing is that its standard mode can fix your device without erasing any data from it. Just follow a basic click-through process and repair your device in no time!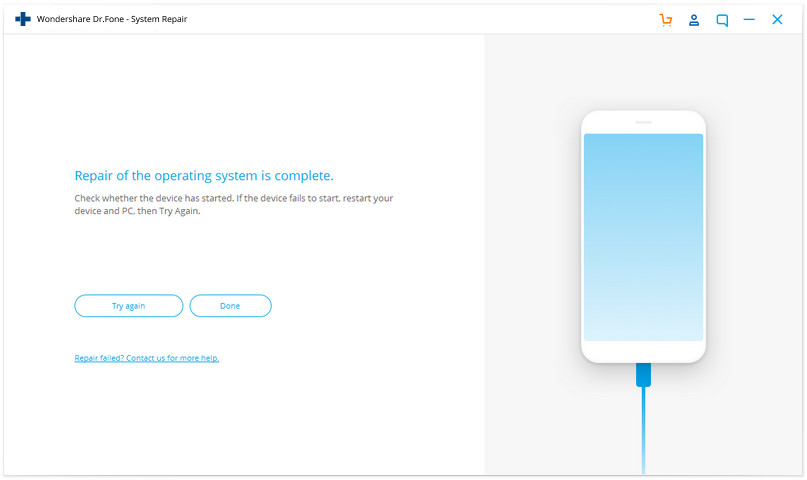 Part 11: Restore iPhone to Factory Settings
If nothing else would seem to work and fix the iPhone alarm no sound problem, then you can choose to factory reset your device. Though, you should know that this will erase the saved data and settings from your iPhone. If you are ready to take this risk, then go to your phone's Settings and tap on General > Reset > Erase All Content and Settings. Confirm your choice by entering the phone's passcode and wait for a while as your device would restart with factory settings.
Now when you know not one but ten different ways to fix iPhone alarm not working, you can surely wake up on time. As you can see, the guide has included all kinds of minor and a few major solutions for the iPhone alarm not going off. If you are planning to factory reset your device, then I would recommend taking its backup first. Alternatively, you can also use a professional tool like dr.fone - Repair (iOS) to fix all the system-related issues without causing any data loss or harm to your iPhone.