Ever since you have bought your iPhone, you have never seen your charger performing badly. However, all of a sudden, you put your device on charge and got a pop-up on the screen that says, "This accessory may not be supported". Well! This is rather worse situation than any other charging issue. You might feel cheated by your device's charger.
Nevertheless, it is not an uncommon issue and you are not alone who face it. 9 on 10 users experience the issue at some point in their lives. There could be numerous reasons on this. We will let you inform in detail in the next section. So, stay tuned and learn why your device says, this accessory is not supported and how to fix it.
Part 1: Why does the reminder of "This Accessory May Not Be Supported" pop up randomly?
One of the chief reasons to this warning in your device could be the uncertified cable. If you are using a lightening cable that is not certified, it is likely to happen, therefore, it is always recommended to use an authentic cord. After all, authenticity is what everyone likes.
A yet another cause that leads to accessory not supported iPhone charger could be the charging port of the device. It is quite possible that the lightening port or the charging port is not clean enough or is damaged/broken and prevent the connection between the charger and the port establish properly.
Thirdly and rarely, there could be a fault in the software that results in such issue and showing up the "this accessory is not supported by this iPhone" warning.
It can be concluded from the above statements that the problem can be hardware or software related. So, we need to figure out both and therefore perform the solutions from both point of views.
Part 2: Check if your accessory is MFi-Certified
If your charger is MFII-vertified, it means that it is made under the Apple's design standards. And if not, this could go against you giving you iPhone charger this accessory may not be supported issue. And this is the most common reason behind it. A number of users purchase charging cables from nearest dollar store just to save some penny. We don't doubt the store but these cables are completely local and are not MFI-certified. In most scenarios, these cables can easily result in overheating of the iPhones.
All in all, if you want to avoid the charger accessory not supported error, make sure to charge your device with the genuine and MFI-certified cord.
Part 3: Check if your iOS Verison is the Latest
A yet another way to solve the problem is to switch to the recent iOS version. In case you haven't yet, please go ahead for checking if there is an iOS version available for your device. If yes, simply install it and see if the notification, "this accessory is not supported" by charger is gone or not. The steps are as follows.
Head to "Settings" and go to "General".
Now, tap on "Software Update" and check for the newest version.
Part 4: Force to restart your iPhone
Force restart is nothing new for us. This is indeed work as our savior if there is any software malfunction in our device. And in this case too, we recommend you to go along with its steps to solve the situation where an iPhone charger says accessory not supported. The steps are given below.
iPhone 6 and Previous Models:
Long press the "Home" button along with the "Power" button for nearly 10 seconds. Release the buttons on the appearance of the Apple logo.
iPhone 7 and 7 Plus:
Press the "Power" button and the "Volume Down" button simultaneously. Keep doing this for nearly 10 seconds and stop when you see the Apple logo on the screen.
iPhone 8 and later Models:
Press "Volume Up" key and release quickly. Do the same with the "Volume Down" key. When this is done, press the "Power" key for long and release when Apple logo is visible.
Part 5: Examine your iPhone's connecting
Now if the problem lies with the charger itself, not scrutinizing the hardware will not prove to be sufficient. Therefore, we will be doing some checking in this particular section to fix charger accessory not supported issue. Let us know what these are.
5.1 Clean up charge port
In the first place, you need to check the charging port of your device. Take help of a cotton swab and insert it in the port. You could notice if there is any dirt or debris in the port that is acting a barrier between the charger and the port and cropping up the charger accessory not supported issue.
5.2 Try to change your iPhone's charger
Secondly, try to charge your device with another charger. And if it is working then there might be some problem with your existing charger. Either replace it or buy a new one in such case.
5.3 Examine your accessory
Did you just see a physical damage on your charger? Or there is any discoloration? Then these are signs enough for why your device is showing the "This accessory may not be supported" warning.
Part 6: Fix iPhone software problem with professional tool – dr.fone - Repair (iOS)
When all the effort goes against you, the best thing that you can come up with is dr.fone - Repair (iOS). It is a program made for the users to get rid of a wide range of iPhone or iPad problems. One can easily use this software as it comes with extremely easy interface as well as promises full security. It never disappoints users by providing 100% positive results. Moreover, there is a great compatibility shown by the tool and it can repair the issues without any data loss.
Step 1: Get the Software
First of all, go to the website of dr.fone and download it. Install it now and launch right after that. Once you get into the main interface, make sure to click on the "Repair" tab.
Step 2: Choose Mode
When you select the tab mentioned in the above step, it's time to connect the iOS device with the PC. Use the lightening cord for the purpose and then hit the "Standard Mode".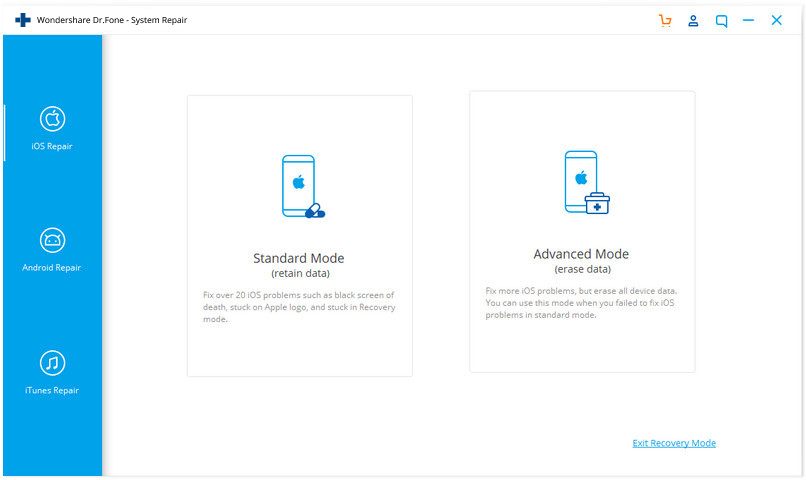 Step 3: Choose iOS Version
The device that you connected will get recognized by the software. The model type of the device will be shown on the screen along with the available iOS version. Select the one and hit on "Start" button.
Step 4: Download Firmware
After clicking, the firmware will start to download. You need to sit relax and see if the internet connection if it is working properly. You can manually download firmware too by clicking the "Download" button.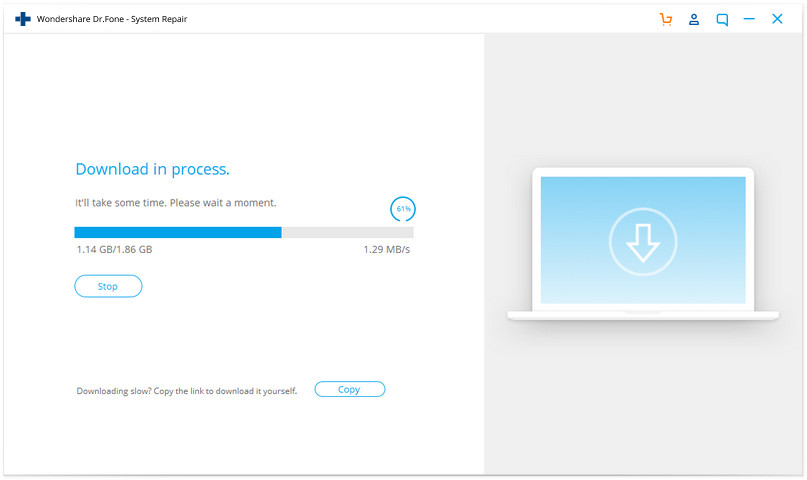 Step 5: Repair the Issue
dr.fone will begin to verify the firmware that you downloaded. Hit on "Fix Now" button as the last step. The program will start to fix the issue and you can use your device perfectly.