"Someone please help me as my volume button is stuck on my iPhone! It was working fine for months, but then out of the blue, the volume button on iPhone got stuck."
This is a question posted on Quora about the iPhone 7 volume button getting stuck. Truth to be told – the problem is not that new and can happen in any iPhone model. Yes – it doesn't matter if you use an iPhone 6 or an iPhone X, chances are that the volume up/down button on your device might get stuck. This can happen due to hardware damage, debris, or even a software issue. To help you fix the iPhone volume button stuck situation, I have listed 7 possible solutions. Let's quickly get to know about these software and hardware fixes in detail.
Part 1: Check the Volume Button and Clean it
One of the major reasons why the iPhone sound button gets stuck is the accumulation of dirt or debris around it. Therefore, before you take any drastic measure, quickly check the volume button. Make sure that you don't use a heavily wet cloth to clean it as it might cause more harm to your device than good. Instead, take a dry cotton cloth or a bud. You can dip the bud in water, soak it, and rub it over to clean it from any debris. If it is still stuck, then use a pin, ejector tool, or even vacuum to clean it off.
Part 2: Long-press the Volume Up/Down Buttons
Chances are that your iPhone volume button might be stuck out of force or any other reason. There is a smart way to fix iPhone 7/8/X volume button stuck caused by this. Simply press the volume up/down button for a while and hold it for a few seconds. Now, release it with pressure so that the force would place the button in its ideal position.
Part 3: Try Another Way to Adjust the Device Volume
If the iPhone 7/8/X/11 volume button is stuck and you can't seem to find a solution, then don't worry. There are different other ways to adjust the volume on your device. While this won't be a permanent fix for a hardware problem, you can still adjust the volume of your device this way. Here are some alternative ways to try if your iPhone 6/7/8/X volume button is physically stuck.
Step 1. The easiest way to access it is from the device's control center. Just go to its home, swipe up the screen, and tap on the volume icon.
Step 2. Now, you can just hold the bar and adjust the volume. Hold and swipe up to increase the volume and swipe down to turn it lower.
Step 3. Alternatively, you can also enable the Assistive Touch on your device to get all kinds of options. Just go to its Settings > General > Accessibility > Assistive Touch and turn it on.
Step 4. Once the Assistive Touch feature is on, you can see its glowing icon on your device's screen. Just tap on it, go to the device control options, and access the volume up or down features.
Part 4: Make a Professional Hardware Check
If you have knowledge of iPhone's hardware, then you can disassemble the device as well. Just be sure that you have prior knowledge of it and that it won't harm your device in any way. Firstly, check if the volume up/down button is linked to the cable and that it has a working connection. If you want, you can even replace a few components to fix any severe hardware damage.
Part 5: Update the iOS Version to the Latest One
If your device is running on an outdated or beta version of iOS, then you should consider updating it. Chances are that there could be a firmware-related problem behind the iPhone 7/8/X volume button stuck issue. To quickly fix this, just go to your iOS device's settings and update the device by following these steps:
Step 1. At first, unlock your device and go to its Settings > General > Software Update.
Step 2. Here, you can view the profile of the latest iOS version available. It is recommended to update the device to a stable version (and not a beta release).
Step 3. Simply tap on the "Download and Install" button and maintain a stable internet connection as your device would download the firmware update.
Step 4. In the end, your device would be restarted with the latest firmware update. Additionally, if you want, you can also enable the option for automatic updates from here.
Part 6: Troubleshoot iOS Crash or System Problem with dr.fone - Repair (iOS)
Apart from hardware problems, several software related issues can also make your iPhone volume button stuck or malfunction. If this is the case, then you can take the assistance of dr.fone - Repair (iOS) to fix the iOS system related issues. It doesn't matter if your device has been crashed or whether it has been stuck, the application can fix every major/minor issue with it. The best part is that it will retain all the existing data on your phone and won't cause any unwanted damage. Since it is compatible with every leading iPhone model like iPhone 7, 8, X, XS, XR, 11, etc. you won't face any issue using it.
Step 1. To begin with, launch the dr.fone toolkit and go to the "Repair" application from its home. Also, connect your iPhone to the system using a working lightning cable.
Step 2. Visit the iOS Repair section and choose between the standard or the advanced mode. Since the advanced mode will wipe the device's existing content, you can consider picking the standard mode at first.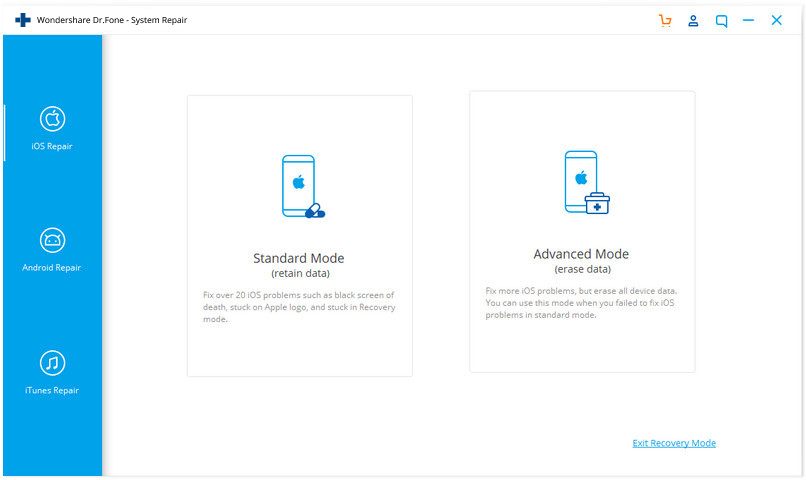 Step 3. In no time, the application would detect the device model and firmware version on its own. You can verify it or make the relevant changes before clicking on the "Start" button.
Step 4. This will make the application download the latest stable version of the firmware for your device. Wait for a while as it will download the iOS firmware and verify your iPhone as well.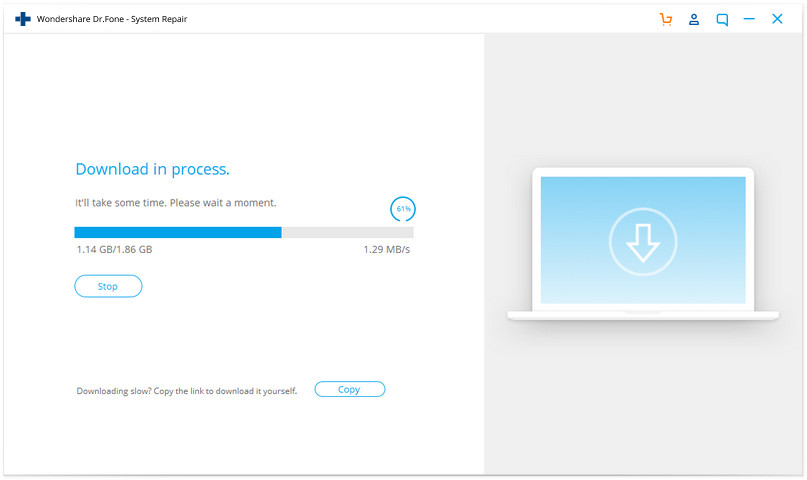 Step 5. If everything goes right, you will get the following screen on the interface. Just click on the "Fix Now" button to repair the iPhone volume button stuck problem.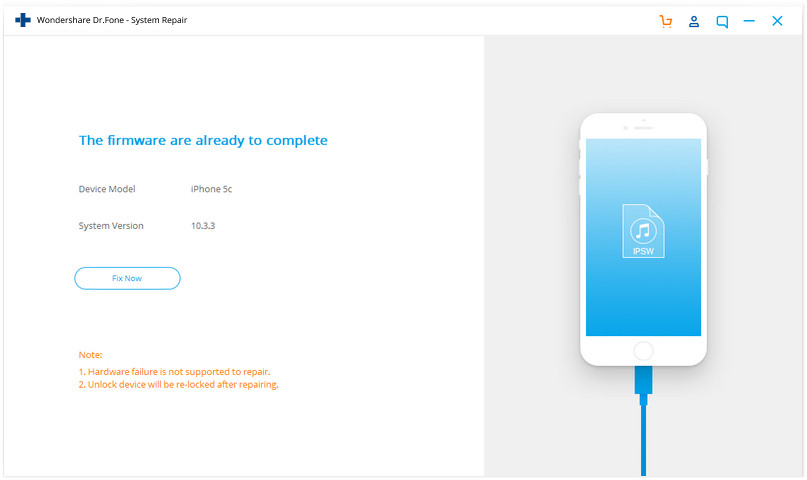 Step 6. The phone would be updated to its latest firmware version and will be restarted in the normal mode. In the end, you can disconnect the device safely from the system and check the working of the volume buttons.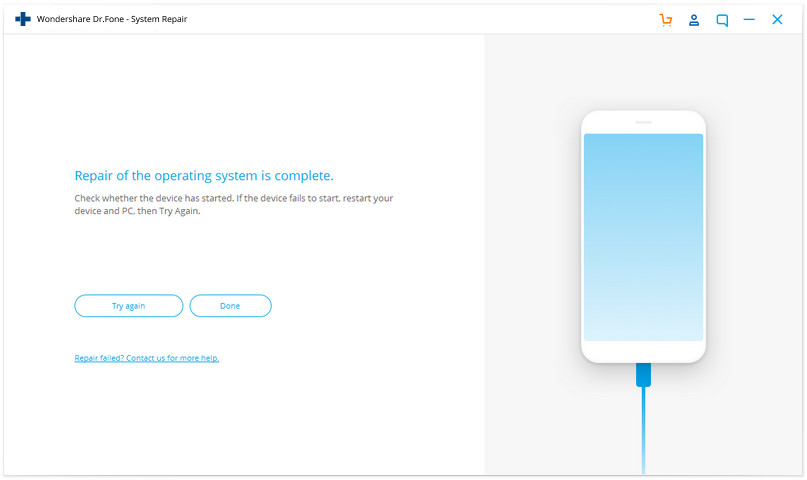 If the problem sustains, then you can follow the same method, but pick the advanced mode this time. While it will erase the existing data on your device, it would also yield far better results.
Part 7: Restore iPhone to Factory Settings
If nothing else would seem to fix the iPhone volume button stuck issue and you are sure it is caused by a software problem, then consider resetting the device. It is considered as a last resort as the action would erase all the saved data and settings from your phone. Here's how you can fix the iPhone 6/7/8/X volume button stuck issue by resetting the device.
Step 1. Simply unlock your iPhone and go to its Settings > General > Reset option.
Step 2. Here, you can see all ways to reset the device. In order to perform a complete factory reset, just tap on the "Erase all Content and Settings" field.
Step 3. Confirm your choice by entering the passcode of your device and wait for a while as it would be restarted with factory settings. After that, you can just set up your device from scratch.
Now when you know how to fix the iPhone volume button stuck issue in 7 different ways, you can easily resolve this problem. As you can see, we have included solutions for both hardware and software related triggers in this guide. If there is any other problem with your phone that you can't detect, then simply consider using dr.fone - Repair (iOS). It is an exceptional DIY iOS system repairing tool that will let you fix all kinds of problems with your phone on your own. Feel free to keep the application handy and be sure that your phone never suffers from any unwanted issue in the future.