"My iPhone won't let me call my contacts anymore. I have reinserted the SIM, but the issue doesn't seem to be resolved!"
If a similar query about iPhone not calling out has brought you here, then consider this your lucky day. While the problem might seem severe at first, it can easily be fixed by checking your iPhone settings and other solutions. From network issues to iOS system crash, there can be several reasons for the iPhone won't call out problem. Therefore, you might need to try a handful of techniques to fix this. For your convenience, I have listed 8 major solutions for the iPhone won't call problem here that you can also implement one by one.
Part 1: Reasons for causing iPhone Not Calling Out Issue
Before you start fixing the iPhone not calling problem, it is important to understand what could have caused it first. Ideally, one or more of the following reasons can make your iPhone won't call out.
The SIM card could be inserted in the wrong way or might not be active.
Your current location might not be covered by your network provider.
There might be a hardware damage with the SIM slot.
Your device might be running on outdated carrier settings.
The contact you are trying to reach out to could have blocked you or vice versa.
You are not getting enough network coverage on your device or there could be a change in its network settings.
There could be any other firmware or system related issue with your device.
Since there could be all kinds of reasons for the iPhone not calling problem, we will tackle them one step at a time with the listed solutions.
Part 2: Check if You Have Blocked the Contact
This might sound surprising, but chances are that you could have already blocked the contact you are trying to reach out to. Besides that, the contact could have blocked you as well. Needless to say, in both these scenarios, your iPhone won't call out the blocked contact. To quickly fix this, just visit your phone's blacklist and remove them from it.
Step 1. To start with, unlock your device and go to its Settings > Phone > Call Blocking & Identification.
Step 2. This will display a list of all the contacts that you have blocked on the device. To make changes here, just tap on the Edit button on the top.
Step 3. In order to remove a contact from the block list, just tap on the delete icon (red bar) adjacent to it.
Step 4. You can also just swipe left the contact and unblock it from your device.
In addition to that, also visit any third party app (like Truecaller) that you could have used to block someone on your phone.
Part 3: Ensure your iPhone gets a Strong Network Coverage
Ideally, in order to make calls or even receive calls on your phone, it should be in a proper coverage area. If you are in the underground, away from the city, elevator, or any other restricted area, then you might not get enough network coverage. Simply move out and identify the nearest network station/tower. There is a network coverage bar on the top of the screen that would show how strong or weak the signal is. If there is a "no service" sign, then iPhone won't call out any number.
Part 4: Update the Carrier Settings
Most of the network providers keep updating the carrier settings for better user experience. Ideally, your iPhone would update the carrier settings in the background on its own (since these are push settings). Nevertheless, if there is a problem with the network provider or the device is running on outdated settings, then you can encounter the iPhone not calling problem.
To fix this, just unlock the device and go to its Settings > General > About. Here, tap on the "Carrier" or "Network Provider" field and install the latest carrier settings on your iPhone.
Part 5: Reinsert the SIM card
If the SIM card is not inserted properly on your device, then it can also cause the iPhone won't call out problem. To resolve this, just take out the SIM tray from the device by using the SIM ejector tool that comes with it. Place the SIM card outside and clean it as well as the SIM tray from any dirt or debris. Just make sure that you only use a dry cloth and not water to clean it. Afterward, insert the SIM card again to your device and check if it fixes iPhone not calling issue.
Part 6: Restart your iPhone
Sometimes, all it takes is a simple restart to fix all kinds of issues with an iOS device. This would reset the current power cycle of your iOS device and would fix all sorts of minor issues with it, like iPhone not calling out. Here's how you can restart different iPhone models.
For iPhone 8 or older models
Simply press and hold the Power (wake/sleep) key on the device, which could be on the top or the side. As the Power Slider would appear on the screen, swipe it to confirm and turn off the device. After that, wait at least for 10 seconds and long press the Power key to turn it on again.
For iPhone X and newer models
Press either of the Volume keys (up or down) and the Side button at the same time. This will display the Power slider on the screen, which you can swipe to turn off the device. Afterward, press the Side key to turn on your iPhone again.
Part 7: Check the Airplane Mode
Airplane Mode is the native feature of smartphones that automatically disables the network connection and WiFi. If the Airplane Mode is enabled, then iPhone won't call or even receive any call. Therefore, you can simply follow this quick drill to check if your device is in the Airplane Mode or not.
Step 1. If the iPhone is on the Airplane mode, then you can see an airplane sign on the top of the screen. To disable it, just go to the Control Center of your phone by swiping up the main screen.
Step 2. If the Airplane mode is enabled, then the respective icon would be highlighted. Just tap on it to turn the Airplane mode off.
Step 3. Alternatively, you can also go to your device's Settings and check the current status of the Airplane Mode. Toggle it off if it has been enabled before.
Part 8: Use a Professional Tool to Troubleshoot iOS System Problems
By following the above-listed techniques, you would be able to fix iPhone won't call out problem most likely. If the situation is still the same, then you need to follow a more advanced approach as there can be an issue with the iOS system itself. For this, simply take the assistance of dr.fone - Repair (iOS), which is a complete device repairing tool developed by Wondershare. Compatible with all the leading iOS models, it can fix every kind of software-related issue with your phone. suck as stucking in apple logo, recovery mode , iphone screen won't turn on and so on. While doing so, it will keep the existing data on your device secure. Here's a quick tutorial to fix iPhone won't call problem with dr.fone - Repair (iOS).
Step 1. Connect your malfunctioning iPhone to the system and launch the dr.fone toolkit on it. From its home, just open the dr.fone - Repair (iOS) section.
Step 2. Under the iOS Repair section, you can see two modes listed – standard and advanced. The standard mode can fix all kinds of minor issues like iPhone not calling without causing any data loss. The advanced mode follows a more sophisticated approach and will wipe the device storage. It is recommended to go with the standard mode at first.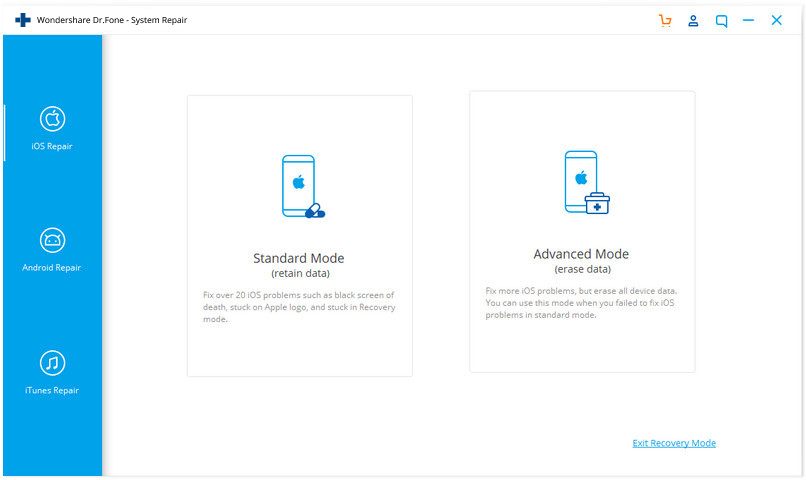 Step 3. To proceed, you need to verify the device model and the system version on the device that would automatically be fetched by the tool.
Step 4. Once you click on the "Start" button, dr.fone will download the suitable iOS version for the phone and will verify your device as well. You would have to be a bit patient for the operation to be completed successfully.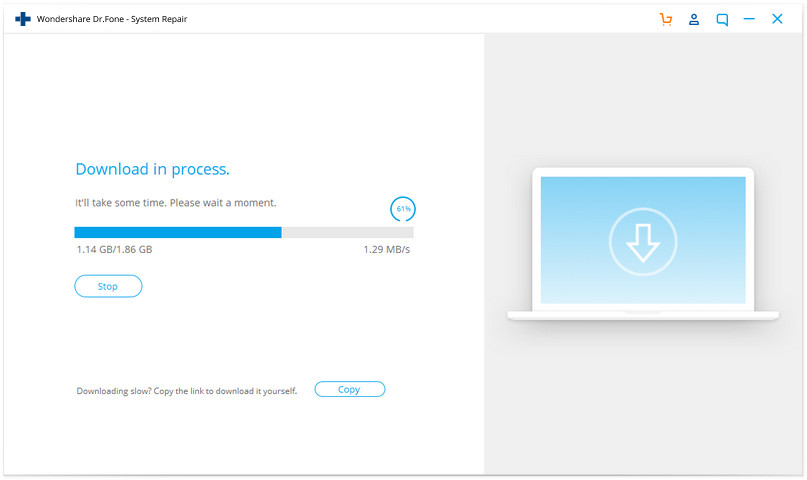 Step 5. When the device is verified, the application will inform you with the following prompt. Just click on the "Fix Now" button in the end to resolve the iPhone won't call out problem.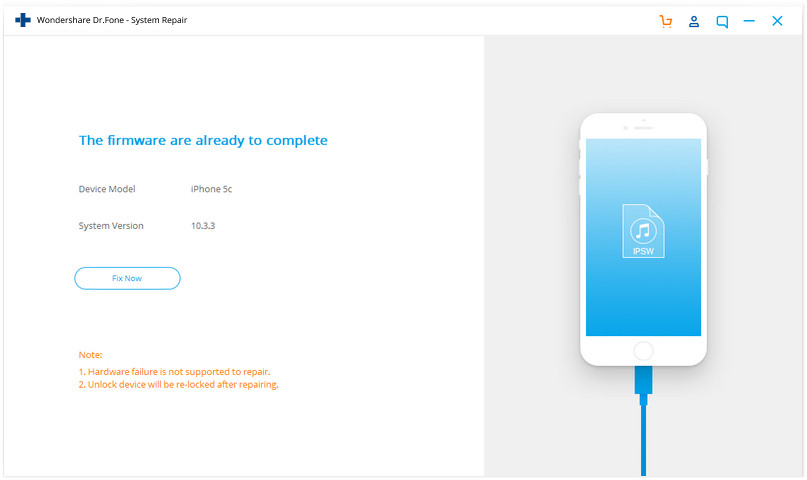 Step 6. Simply wait for a few minutes as your iPhone would restart normally in the end. Once you get the following success prompt, remove the device from the system, and use it the way you like to make calls easily.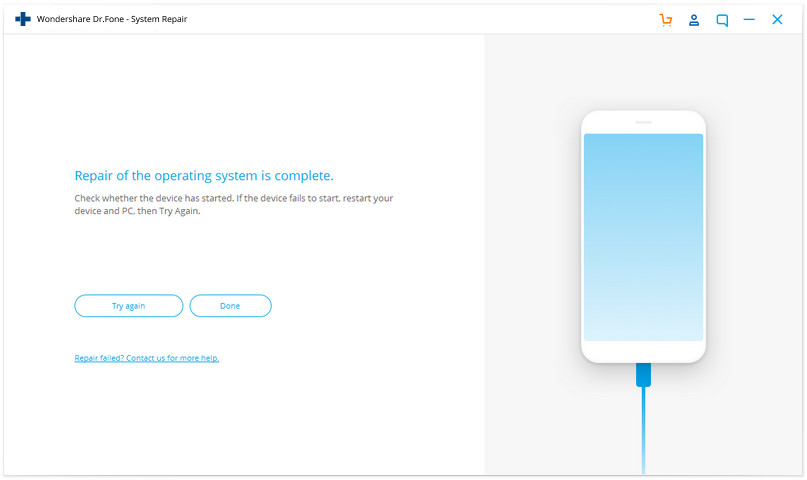 Part 9: Dial *#31# to Enable Outgoing Calls
This is one of the many secret codes that work on several iPhone models. If you are lucky, then you would be able to enable the outgoing call feature on your device by dialing this code. Just go to the dialer on your device and dial *#31#. Don't worry – it won't make any call, but would simply run the code to fix iPhone not calling out problem. If it won't work, then you can use some other codes like ##873283# or *#30# as well.
The iPhone not calling might be a common problem, but it can also be easily fixed by following the right techniques. Since you can end up facing any unwanted iOS system issue in the future, it is recommended to keep a tool like dr.fone - Repair (iOS) handy. The application can fix all kinds of major and minor iPhone issues without causing any harm to your system. Feel free to give these solutions a try and let us know if you also have any other fix for iPhone won't call out that I have missed here.