iPhone X has been able to made place in the users heart but thinking it to work perfectly every time can be a misconception. No matter it has got some amazing skills and entertaining features, but seeing it suddenly getting shut down can't be more distressing than anything else. If you are also the one who are facing this use, then giving 5 minutes for this post won't harm you. Read this article to know how you can fix iPhone 6/7/8/ X shutting down randomly.
The reason for iPhone keeps shutting off
There are multiple things that can explain why your iPhone suddenly turned off. We are here to tell you some common reasons for this issue. Please have a look and figure out if one of these is the trigger point of the issue.
Flawed Battery Indicator: If you see your iPhone keeps turning off, this might be because the battery indicator is deceiving your iOS. It simply means that the indicator is showing; let's say 2% when it actually is 90%. Under such circumstance, the OS can be misguided as the battery is drained and therefore force the device to shut off.
Malware Attack: Nothing can stop your device from being exposed to annoying bugs connected with malware or viruses. If you are not able to handle your device properly, odds are to get it infected by the unknown and problem-giving malwares. And this could be the other reason why your iPhone behaves in such way.
Incompatible Software: A corrupted or incompatible software has always been a major cause for such performance. Hence it is always suggested to go with the updated firmware whenever it is available.
Inactive Applications: There is no surprise that we install number of apps out of excitement and never use them after first time. The applications that are kept in the device become sluggish in behavior and as a result might slow down the phone. Thus, your device can randomly shuts off as a consequence.
Part 1: Force to restart iPhone
A well known troubleshooting solution for any of the minor glitch in iPhone is force restart. Some might address this method as hard reboot. Both are equally same and work well when it comes to fix the problem in the first place. And therefore, we recommend this to you if your iPhone X shutting down randomly. Here are the steps mentioned for this process. Please note that there are differences in the steps for different iPhone models. So, follow the steps according to your device.
iPhone 6 and Below:
Press and hold the "Power" + "Home" buttons together for roughly 10 seconds. You will be able to notice the Apple logo in few seconds. Just release the buttons when you see it and your device will be rebooted.
iPhone 7/7 Plus:
Hold the "Power" + "Volume Down" buttons simultaneously and release them when you are able to witness the Apple logo.
iPhone 8/8 Plus and Later:
Tap the "Volume Up" button. Now tap the "Volume Down" button. Followed by this, press and hold the "Power" button until you get the Apple logo on your screen.
Part 2: Do I need to change a battery?
If your tried the above method but to no avail, it's time to do some investigation on your battery. Many times, there are some battery problems that are culprit. So, first of all, please do check if your device's battery is not dead. Many times we ignore the reality and start making hue and cry over the issues. In case the device has run out of battery, you know what to do next. Simply grab your charger and start charging it.
Secondly, if your device is charged but still find that your iPhone suddenly getting turned off, you need to speed up and reach the nearest Apple store. Get your battery checked and ask for the replacement if battery's life is drained.
Part 3: Popular Tool to Fix iPhone Randomly Shutting Off
No worries if your device is in the same state. We are going to introduce an interesting and powerful tool that can surely help when iPhone suddenly shut down and continues to do so. Being able to repair any kind of iOS system issues in no minutes, this is the one that you must have. Especially when you are not tech savvy, this is what the best you can have. It offers the simplest process as well as does the work without any data loss. Here is how you can perform repairing with this tool when iPhone randomly turns off.
Step 1: Download and Launch
Begin to download the program on your computer by visiting the official site. Install and launch now. After this, you need to select the "Repair" tab from the main window.
Step 2: Choose Mode
Please ensure to use a genuine lightening cable to establish connection between your iOS device and the computer. Once it is detected, choose "Standard Mode".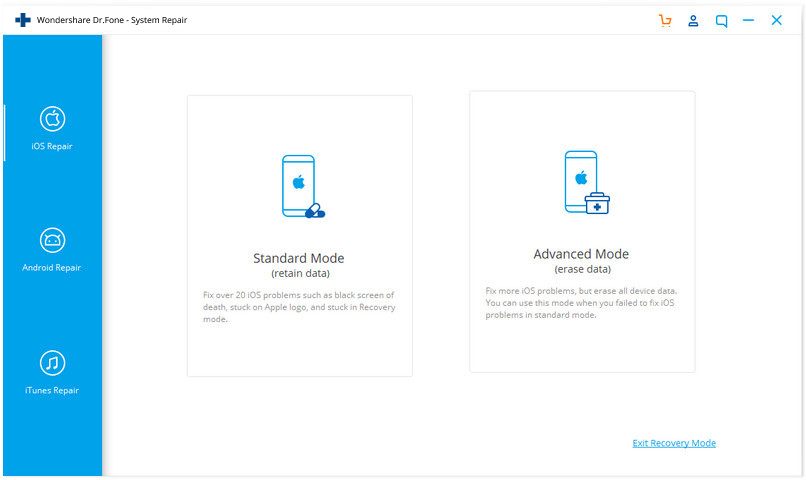 Step 3: Start the Process
Your device will be positively detected by the program. You will be able to see the device model on the screen. Besides this, the information for available iOS system versions will be on the screen. Choose the suitable iOS version and hit "Start" button.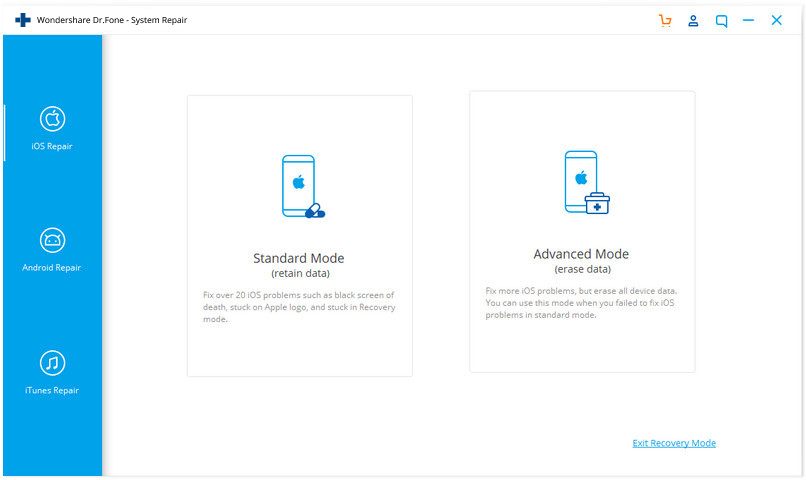 Step 4: Download Firmware
When you click, the chosen firmware will begin to download on your PC. In case there is a problem, simply click on "Download" and proceed.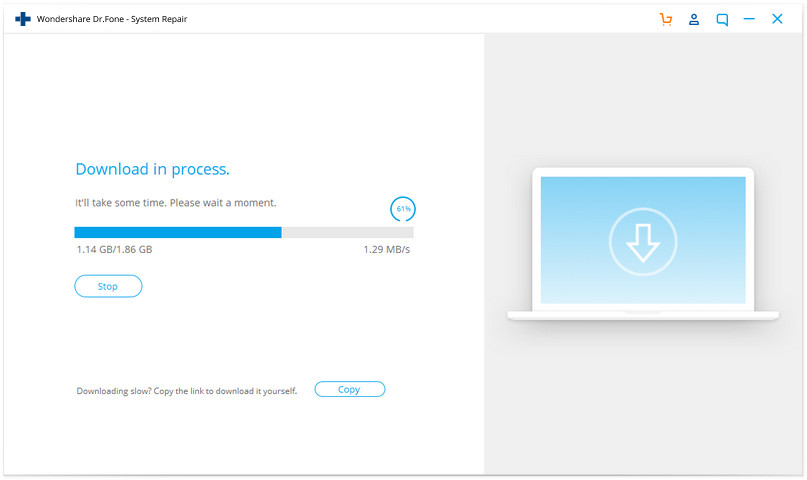 Step 5: Repair the Issue
The downloaded firmware will not get verified. Once done, hit on the "Fix Now" button. Within some time, your device will be free from issues like random shut down.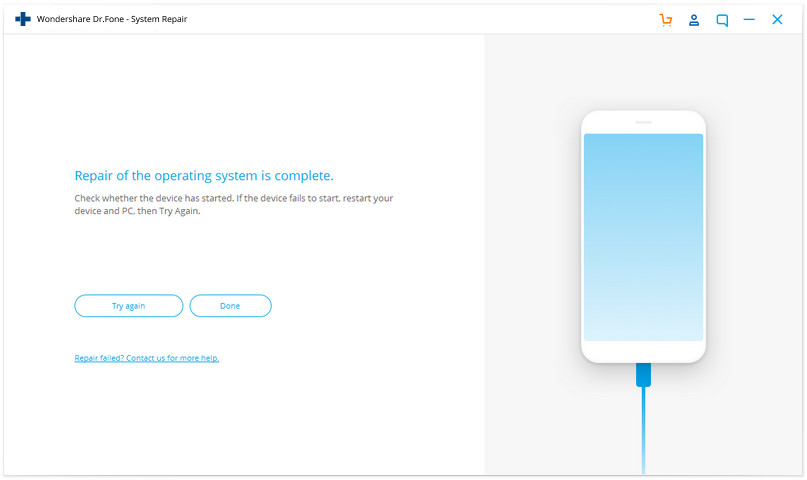 Part 4: Restore your iPhone to Factory Reset
Apart from using a tool, you can try to reset your iPhone if it still shuts off randomly. This will, no doubt, remove all the contents and existing data from your device, but will fix the issue as a result. So, if unfortunately you didn't succeed in the above method, try this out. To do this, you have to follow the steps given below:
Go to "Settings" and tap on "General".
Now, look for "Reset" option and choose "Erase All Contents and Settings".
Enter passcode if asked followed by confirming the reset.
Part 5: Put your iPhone into Recovery mode
There are times when people get stuck with Recovery mode loop but taking help of rexovery can be helpful in such situations as well. Hence, if still your iPhone X randomly turns off after trying all of the methods mentioned above, we recommend you to put your device in recovery mode. Follow the steps given below. But before, make sure to power off your device and keep the iTUnes launched on your computer. Now, go along with the steps according to your device.
iPhone 8 or later (X/XR/XS Max):
Make connection between iPhone and PC and old down the "Side" button. Do this until you see the recovery mode screen on your iPhone.
iPhone 7/7 Plus:
Start with connecting your device with your PC via an authentic cord. While this is done, keep hold of "Volume Down" button and release the button when recovery mode screen appears on your iPhone.
iPhone 6/6s or earlier:
When you connect your iPhone to the PC, press and hold the "Home" button. Keep doing it until the recovery mode screen comes.

The iTunes will now detect your device in recovery mode. It will bring you two options namely "Restore" and "Update". Go for the "Restore" button. Hopefully it will fix the problem.
A DFU mode is there to your rescues if recovery mode fails too. Please check out the following stpes carefully and get the problem of iPhone randomly shuts off quickly. Please ensure to keep your device turned off and open iTunes to connect your device.
iPhone 6, 6 Plus or below:
Press down the "Power" and "Home" keys altogether. Release the "power" button after 5-6 seconds but hold the other button.
Within a few seconds, your device will enter the DFU mode and iTunes will notify you for the same.
iPhone 7 and 7 Plus:
Here, hold the "Power" and "Volume Down" buttons together. Release the former button after 5-6 seconds.
iTunes will, in no time, notify you that your device is detected and your device will be botted in DFU mode.
iPhone 8, 8 Plus, X and Latest:
Tap the "Volume Up" button. Repeat with "Volume Down" button. Now, long press the "Power" button.
On seeing your iPhone's screen going black, release only the "power" button. iTunes will inform you about the detection of device in DFU mode.
Part 7: Update your iPhone to the Latest iOS version
No matter if it is your iPhone 8 that shuts off randomly or iPhone X or previous versions, when your device's software is outdated you can't help but get such troubles. Therefore, update your iOS version to the latest if it is not updated as this often puts you in such situations. Here is how to update iOS when iPhone X keeps turning off.
Grab your respective iPhone and launch "Settings".
Head to "General" followed by "Software Update".
Now, you will know if there is any new updated available. Follow the prompts and install it.
Part 8: Update your Apps and delete the suspicious faulty apps
It is no wonder that our device fails to perform normally if it runs out of space. And the insufficient space maybe due to more and more apps you download in your device. Hence, if your iPhone X keeps turning off or any other iPhone keeps shutting off, this might be the reason for the number of apps in your device. Also, the faulty or the outdated apps can lead to the situations which are never welcomed. This calls for deleting the unnecessary apps from your device. And the second thing you should be ensured of is to update the apps.
To update the apps, you need to open the App Store in your device. Go to the Updates section and tap "UPDATE" to get the apps updated one by one. Or simply tap "Update All" for all the apps at once.
In case of deletion, all you need is to be on the Home screen of your device. Long tap on the icon of the app that is no longer needed. When you long tap, it will jiggle with a little vibration. A cross icon will appear. Just tap on it and confirm deletion.