Mistakes make us utterly annoyed by our own actions. And then, we regret it later. One such is when you've selected like 20s-30s images together only to share to your friends. But, then what you see is photos getting vanished in just a blink of an eye! By mistake, you hit the "delete" button. Or maybe, you have recently updated to the beta version for fun and see the photo album is missing. Okay, your heart might have skipped and gave you goose-bumps! However, swallow your emotions as we are here to give you the apt ways for recovering the missing photos from iPhone. You just patiently need to understand the methodologies for each method written below. So, take a chill pill and get started.
Part 1. The reason that my recently deleted photo album is missing
It is really a nightmare to not have all your selfies, portraits, pictures that you loved so much. And, that might have garnered you thousands of likes, being there no more. But, it is important for you to understand what went wrong. Sometimes, you are not the one to be blamed for. Chances are you might have updated to the latest iOS version and then you try to use your phone, get into the pictures, they are no longer there. If that's not the case, then you might have accidentally deleted your photos. Instead of tapping on other option, you would have had accidently opted for "delete/trash" button.
Part 2. How to recover the missing album from iCloud
When you're looking out to recovering the lost photo on iPhone, one way of getting it is through iCloud. Phew, feeling relived? Well, it is not so easy to recover your accidentally deleted photo on iPhone. As, first you have to erase out all the contents, settings that have been there on your phone and then get on to the recovery phase. For that, you can directly recover from the built-in iPhone app. alternatively, you can login to iCloud and then restore.
Note: To perform the following steps, double check that you have back up the photos via iCloud.
In the following steps, we will see how to get the recently deleted photo albums.
Step 1. In order to recover from iCloud it is important that the iCloud photo library option was enabled already prior to loosing the photos. To check if it is enabled or not, Head to "Settings", click on [your name], then tap "iCloud" and opt for "Photos".
Step 2. Now, if it is enabled, you need to jump on to resetting device by going to "Settings". From there, click on "iCloud" followed by "Reset" and "Erase All Content and Settings" respectively.
Step 3. Now, turn your device on and follow the thread of on-screen instructions to get on the "Apps & Data" screen.
Step 4. Then, tap on "Restore from iCloud Backup" and opt for the "iCloud backup" as per the time backup time and data size.
Part 3. How to recover photo from iTunes?
If you are not ready to pay the price for recovering from iCloud, you can trust Apple's iTunes to do the work for you. You might usually tune to iTunes for playing your favorite playlist, podcasts but it can go an extra mile for recovering your photo album that is missing since heavens knows when. All you need is your working PC or laptop, get into iTunes and restore the backup. There is no way you can certainly recover selective photos or photo album.
Here is how you can restore deleted photo on iPhone.
Step 1. Draw connection of your iPhone with PC (with a pre-synced to iTunes device) using a genuine USB cable.
Step 2. Visit iTunes on your PC/laptop and allow it to detect your device.
Step 3. There, you'll see your iPhone's icon, click on it and then opt for "Summary" panel.
Step 4. Simply, click on "Restore Backup" option under the "Manually backup and restore section".
Step 5. The "Restore from Backup" window will prompt up, select the desired backup file from the drop down menu and hit "Restore" afterwards.
Part 4. How to selectively recover photo from iPhone with dr. fone –Recover
We saw the organic means of restoring the recently deleted photo album is missing. But, that just recovers all the backup or even demands for complete deletion of data. However, with dr.fone-Recover, you can enjoy the liberty of selectively restoring all kinds of data like messages, photos, videos, contacts, calls logs etc. In a laser-fast speed, dr.fone - Recover (iOS) ensures to get you the lost photo on iPhone.
Follow these step by step tutorial to understand how to recover lost photos on iPhone via dr.fone-Recover.
Step 1: Launch program and draw connection of iOS Device with PC
Just begin with, installing and running the application on your working PC/laptop. Using an authenticated USB cable, connect your iPhone with computer or Mac. Load dr.fone-Recovery (iOS) and tap on "Recover".
Step 2: Scan the file
After, the program automatically detects your device, the data folders enlisted in your iPhone will appear. Select the desired data type that you wish to recover. Then, tap on the "Start Scan" button to allow program to scan out the deleted or data lost from your iPhone.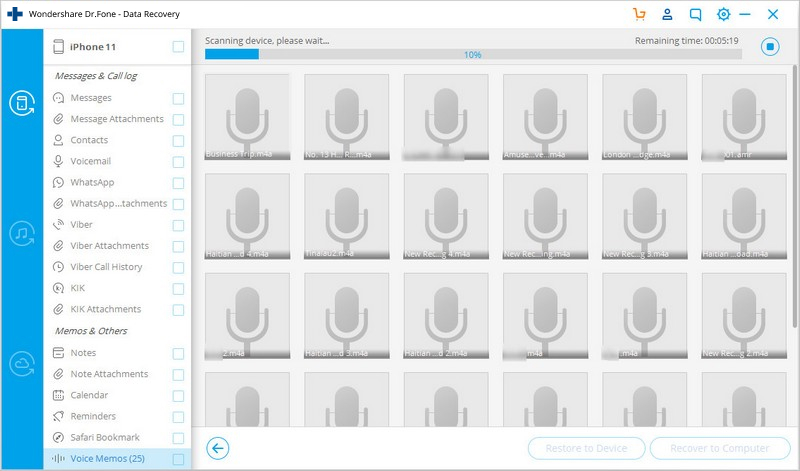 Step 3: Gain insights of Photos/Photo album from Preview
Now, the scanning will accomplish successfully. Scrutinize the photo album or the photos that went missing from your iPhone. For much comprehensive view, click the "Only display the deleted items" to switching on.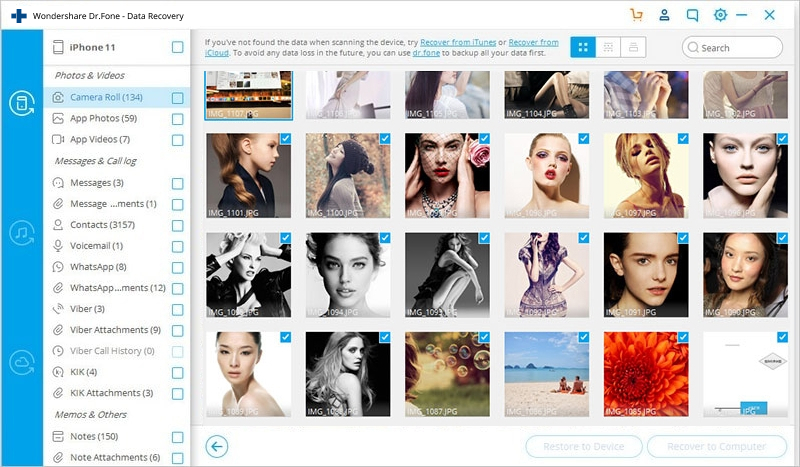 Step 4. Recover Photos on iPhone
At last, tap on "Recover" button placed on the bottom right section. All the data saved on your computer or device. There you go, enjoy your photos and albums!