Are you not able to send text messages from your iPhone?
Don't worry – this is quite a common issue that is faced by numerous iPhone users. To find a solution for the text message failed to send on iPhone problem, you first need to diagnose its causes. For instance, there could be a problem with your iPhone's settings, the network, or even the recipient phone. A while back, when I got the iPhone message failure prompt, I diagnosed the issue and implemented several techniques to fix it. In this guide, I have listed how I fixed the text message failure issue on iPhone – and you can too!
Part 1: Reasons Why my iPhone Fails to Send Text Messages
In order to fix the iPhone text message failed to send problem, you need to know its major causes first. In this way, you can avoid facing the same issue in the future.
Your device might not be connected to an active network or can have no service.
You might have exhausted the message limit on your phone.
Your number might be marked as spam or could be blocked by the recipient.
There could be some wrong network settings implemented on your phone.
Your device might be running on an outdated or corrupt firmware.
The SMS or iMessage app on your phone could be malfunctioning
Any other software related issue with your iPhone can also trigger this problem.
The good news is that the iPhone message failure situation can easily be fixed. Here are some of the suggested solutions for it that you can implement on your own.
Part 2: Forcefully Reboot your iPhone
If your device has been stuck and you can't seem to send messages from it, then consider restarting it. A forceful reboot would reset the present power cycle of your device, will clear its RAM, and perform a soft reset. Since it will not cause any data loss on your iPhone, it is considered as a recommended fix for message send failure on iPhone. Here are the key combinations to do a forceful restart for different iPhone models.
iPhone 6s and older versions
Press the Home + Power (wake/sleep) keys simultaneously for 10-15 seconds and let go of them once your device vibrates.
iPhone 7 or 7 Plus
Press and hold the Volume Down key + the Power button at the same time. Keep holding them for a while and release once the device restarts.
iPhone 8 Plus and newer models
Firstly, quick-press the Volume Up button which would be followed by quick-pressing of the Volume Down key. Without waiting anymore, press the Side key and keep holding it for a few seconds until you see the Apple logo on the screen.
Part 3: Inspect All the Crucial Settings on your iPhone
Before you take any drastic step to fix the iPhone text message send failure, perform a thorough diagnosis on your device. Here are some of the important settings on iPhone that you should check in this case.
3.1 Do you have adequate cellular data left?
If you are using any social or IM app (instead of SMS), then your device should be connected to the internet. Additionally, if you are using cellular data, then there should be enough bandwidth left. To do this, just go to your iPhone's Settings > Cellular and turn on the Cellular Data option. Also, check the data limit left for your cellular data from the usage details here.
3.2 Check if your iPhone is in Airplane Mode
The Airplane Mode automatically blocks all the network connections on the device. Therefore, if your device is presently running in the Airplane Mode, then you would get the text message failure prompt on iPhone. Just go to its Control Center or Settings and turn the Airplane Mode off.
3.3 Is the DND (Do Not Disturb) Mode On?
If the DND mode is enabled on your device, then all the notifications for calls and messages would be silenced. In this case, even after sending a message, you would not get a reply's notification or a delivery report. You can just disable the DND mode from the iOS device's Control Center or visit its Settings > Do Not Disturb to turn it off.
3.4 Reset your Device's Network Settings
One of the major reasons for the iPhone text message failed to send problem is a glitch in its network settings. To fix it quickly, you can just reset the network settings on the device. Just unlock the phone and go to its Settings > General > Reset > Reset Network Settings and confirm your choice. Subsequently, your phone would be restarted with its default network settings.
Part 4: Make sure your Device has a Strong Network Signal
Needless to say, your iPhone should be in proper network coverage else you won't be able to receive or send messages. Mostly, your phone can have restricted coverage in closed spaces, parking lots, elevators, etc. Also, if you are far from an urban area, then network coverage might drop. Check the strength of the signal on the phone's top or via settings. Move outside and be in the vicinity of a strong network signal to send or receive messages.
Part 5: Reopen your SMS and MMS app
Chances are that the messaging app on your iPhone might not be functioning well. To fix this, you can just close the SMS or the iMessage app and try to access it again. To further fix the iPhone text messages send failure problem, you can quit the app from running in the background as well.
Step 1. If your iPhone has a home button, then just press it twice. This will launch the app switcher window, letting you quit the app by just swiping its app card.
Step 2. For devices without a home button, just go to its bottom panel to access its gesture control. Swipe up till the half of the screen to open the app switcher. Now, slide up the app card for the SMS/MMS app to close it.
Step 3. Once the app is closed even from running in the background, launch it again and try to send messages.
Part 6: Check the Number you have Texted to
Sometimes, a minor human error can also be the reasons for the text message failed to send on iPhone. For instance, you might be texting the wrong number or contact. To quickly check this, just open the conversation window and tap on the contact. This will display the phone number that is saved for the respective contact. If you think it is wrong, then simply edit the number and try again.
Part 7: Have you exhausted the Message Limit?
Most of the network providers have certain limit for text messages for their prepaid or postpaid plans. For instance, you can have the limit of sending 100 messages in a day. If the limit has been exhausted or you are running on low balance, then you would get the iPhone message failure prompt. You can check with the carrier provider if there is a message limit like this on your number.
Part 8: Update your iPhone to the latest iOS version
Another reason for getting the text message failed to send iPhone problem is an outdated or corrupted firmware version. If your device hasn't been updated in a while or it is running on a beta version, then you might get the message send failure prompt on iPhone. To update your device, you can follow these simple steps.
Step 1. Unlock your iPhone and go to its Settings > General and tap on the Software Update settings.
Step 2. Here, you can see the profile of a stable iOS version that is available. Just tap on the "Download and Install" button and wait for a while as your device would update successfully.
Part 9: Use an iOS System Repairing Tool
If nothing else would seem to work, then chances are that there could be a serious issue with your phone's firmware. This can be fixed by using a professional system repairing application like dr.fone - Repair (iOS). It features a user-friendly interface and can fix all kinds of major issue related to an iOS device. This includes an unresponsive phone, corrupt firmware, device stuck in a reboot loop, or any other system error. The application will let you update your device to stable firmware release without causing any data loss in it. Just follow a simple click-through process and fix the iPhone message failure issue.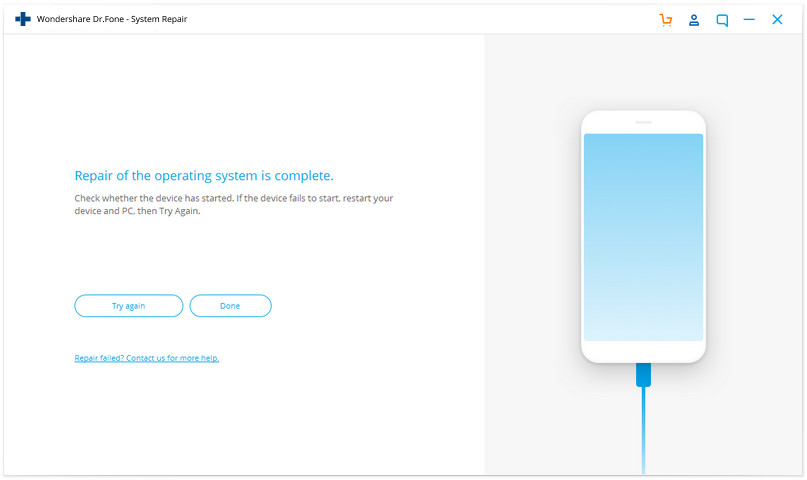 After following all these solutions, you would certainly be able to fix the iPhone text messages failed to send error on your iPhone. As you can see, there can be all kinds of reasons for this like incorrect iPhone settings, human error, system issue, and so on. Which of these techniques helped you get rid of the failed to send text messages on iPhone issue? Are you still facing the same problem and can't seem to send/receive messages on iPhone? Let us know your thoughts or suggestions about this iPhone problem in the comments.