With today's technology advancing, minor glitches do not come as a surprise. While you enjoy many features as an iPhone user, all phones tend to have an issue from time to time. It is quite probable that once or the other, you have faced the issue of your iPhone not receiving texts. Since it is not always possible to approach an expert for solving your issue, here is an elaborate guide for you. You can try out these troubleshooting methods to get a solution for yourself.
Note: We recommend that you keep trying to send messages after each step when you are trying to fix the problem of not getting messages on the iPhone.
Part 1: Force to restart your iPhone
1.1 Force Restart iPhone 6
For iPhone 6, you can see the power button located on the right hand side. You can simply use a long press to switch it off. You will get a slider option on your screen to confirm the reboot. In case, the simple restart does not work, then here is how you can force to restart the phone.
Step 1: Start by pressing and holding the home button. At the same time hold the sleep/wake button too.
Step 2: Hold both these buttons together until the Apple logo appears. This will force restart your iPhone 6/6 plus.
1.2 Force Restart iPhone 7
The way to restart an iPhone 7 and 7 Plus is a bit different from the older generations. Please remember that the simple on/off power remains the same with a long press on the power button. However, you may just need to undertake a force restart process in case you are not receiving text messages on iPhone. Here are the steps you can follow:
Step 1: Start by pressing and holding the power button located on the right side of the phone. At the same time hold the volume button located on the left side.
Step 2: Hold both these buttons together until the Apple logo appears. Wait for the phone to restart. This will force restart your iPhone 7/7 plus.
1.3 Force Restart iPhone 8 or iPhone X or iPhone 11 variants
If the power on/power off method does not work for iPhone 8, then here is how you can force it to restart.
Step 1: First, you would need to press the volume up button and then release it. Press it for 2-3 seconds.
Step 2: Repeat the press and release step with the volume down button too.
Step 3: Lastly, hold the side button and wait for your device to reboot.
Note: You will need to hold the side button for about ten seconds to force it to restart.
All of the aforementioned methods can be used to force restart your iPhone. Once you reboot the phone, there is a high probability that your issue of iPhone not receiving text messages will be fixed.
Part 2: Useful tool to fix iPhone not receiving messages-dr.fone-repair
One of the easiest ways to fix your problem when you are not getting messages on the iPhone is to use a tool called dr.fone-repair. It is a third party tool but has been awarded by biggies like Lifehack, CNET, Softonic and PC World. It is more or less a guide for you to understand your phone better. It is also a solution, curated exclusively to diagnose the issue in any of the iPhone models. We prefer it the most because you can solve the problem of not receiving imessages or texts on your phone without losing any data at all.
Key Advantages:
This is your top one-click solution for fixing the problem of the iPhone not receiving texts. Some additional advantages include the following:
It is the fastest, easiest, and safest option for you to use with no risk of losing any data.
It solves many different problems, such as your phone being stuck on the Apple logo, screen blanking, phone freezing, and even not being able to send messages.
It fixes universal iTunes and iPhone errors, namely 4005, iTunes error 27, iPhone error 4013, amongst others.
It supports all iOS devices.
You do not need to update. This solution is available with all iOS versions.
Helps in the diagnosis of all iPhone problems without any data loss at all.
Step by step tutorial to fix not receiving imessages problem with dr.fone-repair (Standard mode)
Step 1: Once you launch the dr-fixit program, you just need to choose the repair option.
Step 2: Connect the phone and click on the start button. After this, you can choose the Standard option. Here in, all your data will stay intact.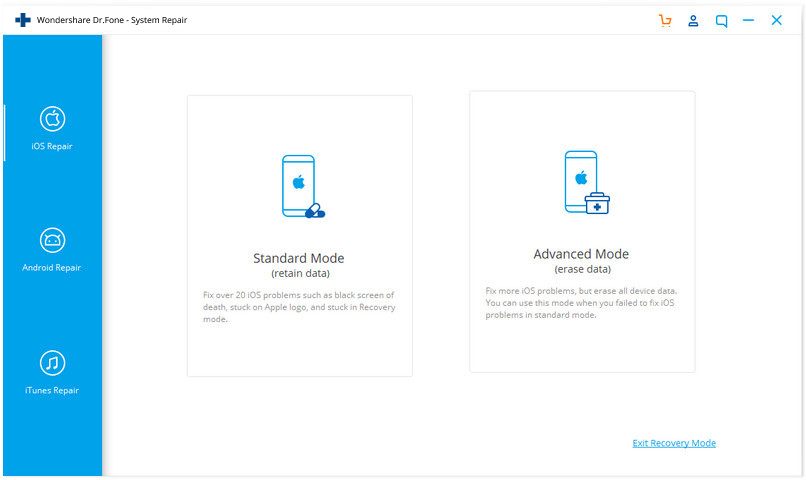 Note: In the advanced mode, you will end up formatting your data, so be careful at this step.
Step 3: dr.fone - Repair will recognize the phone model, post which it will set it in the device firmware update mode. As you can see, you need to hit on Start button undertake this process.
Step 4: Once it downloads the required firmware, push the Fix Now button and the problem will be resolved and your iOS system will get repaired.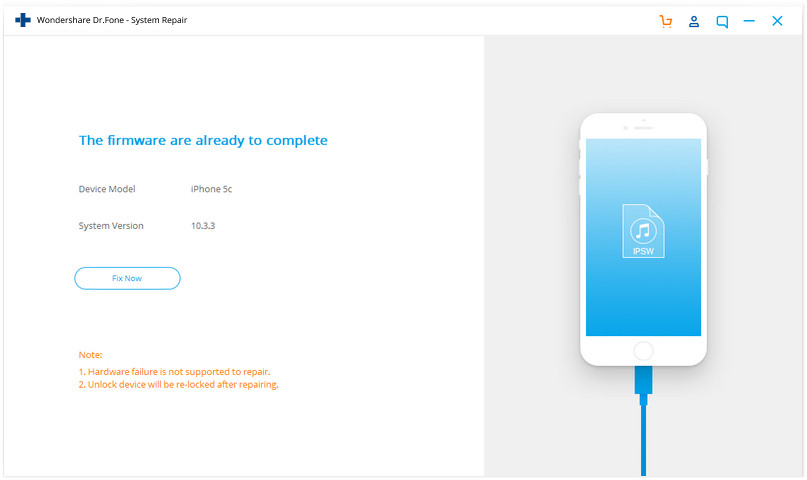 Step 5: This process will hardly last for a few minutes. After this, you can keep using your iPhone without any issue.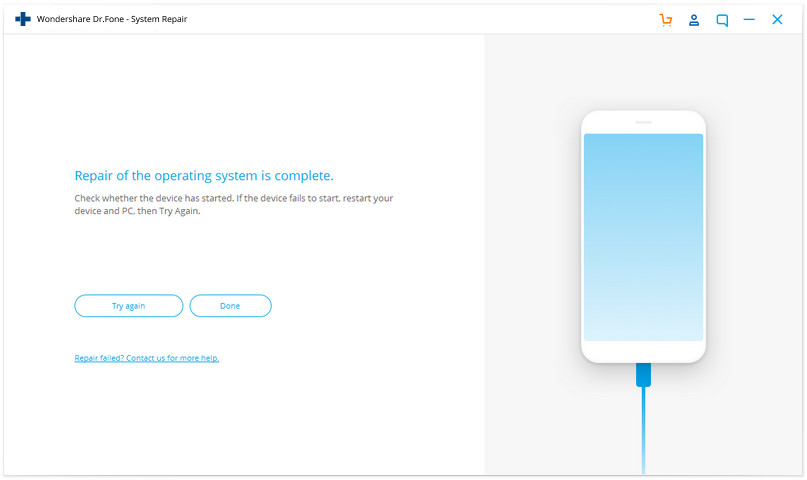 Note: We recommend you to try this method on priority if your iPhone is not getting any text messages. It will help you in keeping the data intact and is perhaps the only solution you need for fixing innumerous iOS problems.
Part 3: Try to connect with your carrier
Another solution in case you are not receiving imessages or texts is to simply contact your carrier. Here are some ways to do that:
3.1 Contact the customer care
Every major carrier has a customer care helpline, an email id and even social media pages for the consumers to access them. In all probability, there is perhaps no issue with your iPhone at all and your carrier might be the source of the problem. It is best to get your problem checked on both ends.
3.2 Visit the outlet
If you are not able to reach the customer care and the outlet is closeby, then we recommend that you visit an executive there and get your issue fixed pronto.
Part 4: Check if you enter the right phone number
Sometimes, we are in quite a hurry. Hence, it is possible that you are entering an invalid number. Even though the numbers are saved in our contact list, it is an option you may want to fix. You can also send a test message to a friend to recheck this problem. If the messages gets delivered to your friend, then maybe the problem is with the number you have.
Part 5: Turn on MMS messaging and group messaging options
5.1 Turn on MMS option
Step 1: Go on to the settings on your iPhone.
Step 2: Scroll through the options.
Step 3: You will get an option labeled messaging. This will be around the password and accounts options typically.
Step 4: Here you will be able to get the MMS option. Just switch it on by clicking on it, like in the picture below.
5.2 Try switching on the group messaging option
Follow the same procedure for switching on your group messaging as well. This option would be particularly helpful if your iPhone is not receiving group texts in particular.
Part 6: Inspect if you have a good network connection
Another thing to remember when your iPhone is not receiving text messages is that maybe your network is facing some issues. Here is what you can do so as to solve this problem:
6.1 Reset network connection
Step 1: First go into the setting option on your menu.
Step 2: Secondly, choose the General option.
Step 3: You will get a subheading labeled Reset.
Step 4: Once you click on the reset, you would come across the option of Reset Network Settings. This will help clear any network issue that may be causing your iPhone from not receiving text messages.
6.2 Turn on cellular data
Step 1: Scroll up through your applications and select the settings.
Step 2: In the settings, choose the subheading labeled as cellular.
Step 3: Switch on the cellular option after switching it off. This will help reset the network and solve the problem in case it is through the network.
6.3 Activate wifi connection
Step 1: Go to the settings option.
Step 2: Choose the Wi-fi option.
Step 3: Switch on the Wi-fi and check whether your chosen network is working or not.
Part 7: Factory reset iPhone
Factory resetting your device will restore it back to the state when you first unboxed it. Therefore, we recommend you to use dr.fone - back up and restore tool here to your advantage. It is your one stop solution to back up your entire data hassle free without the risk of any loss. Moreover, you can restore the contents both selectively and completely as per your preference. Now, to Factory reset your iPhone post backing up the data, follow the steps below.
Here are the detailed steps to factory reset iPhone using iTunes:
Step 1: Connect your iPhone and launch iTunes.
Step 2: Once iTunes detects your iPhone, go onto the Summary section under the settings on the left panel.
Step 3: Here you can choose the "Restore iPhone" button. You will see a pop-up dialog box, where you need to select 'Restore' option to reset your iPhone to factory settings.
7.1 Use the iPhone for a factory reset
Step 1: Go into your menu and choose the settings option.
Step 2: Pick the General option for the settings.
Step 3: After which, you can simply choose the erase option as mentioned in the picture below.
Step 4: You would then need to enter your passcode and finally you would be able to erase your iPhone.
7.2 Do a Factory reset via the Find my iPhone feature
It is ideal for stolen or lost iPhones, but it will work only if the "Find my iPhone" feature is enabled for your decide. With this method, you can factory reset the iPhone and also erase the data. Here are the steps you can follow:
Step 1: Launch your preferred web browser. Log onto iCloud.com, and then sign in using your Apple credentials.
Step 2: After this, you can choose the 'Find my Phone' option and select 'All devices' from top.
Step 3: You will get a list in which your phone will be there as an option. Choose the option and then select the "Erase iPhone" option. This will factory reset the phone and remove all the data from it.
Part 8: Make room for receiving new messages
Even though storage is the least of worries for iPhone users, one of the reasons why you may not be receiving text messages can perhaps be this issue. You can clear the data through the following ways:
8.1 Keep a tab on your usage
You can go to the general option. After which, you can choose the usage option and then simply manage the storage to understand which app is using most data for you.
8.2 Check for internal downloads
Many apps are notorious for unwarranted internal downloads. Hence, we recommend that you keep a tab on these too.
8.3 Don't hoard
It is very tough to part from data – be it old podcasts, our photos, songs, and even games. But, make it a rule, if you have not used or seen something in over 6 months, throw it in trash. Or simply back up the data but remove it from your immediate visibility on the phone.
8.4 Set the automatic expiry option and delete your messages regularly
To make place for new text messages to come in the picture, we would recommend that you delete the messages on a regular basis. This will help the messages from being stuck.
8.5 Clear your cache
While you can do this with a simple external cleaning app on your phone also, but we recommend that when you delete an app, you go to the general settings and clear the cache while managing the storage.
Part 9: Connect with apple store
Ultimately, if neither of these methods work and if you are still not getting text messages on the iPhone, then we recommend you to contact Apple. If that is not a solution for you, then visit the place where you got your device. Your phone may need a repair in case something has gone wrong. In some cases, a refund or replacement can be arranged too. Hence, we recommend you also to buy insurance while buying your iPhone.
Final Words
With the quality that iOS provides, it is highly unlikely that the above-mentioned solutions would not solve your issue. However, if you still face issues after trying out these methods, then the problem likely lies with your hard ware itself. Hence, a repair may become absolutely necessary for you. It is best to contact your seller and get a proper solution because there is a lot of important information which you may be missing out on due to the absence of this particular feature.