"My iPhone XR's screen is frozen out of the blue and I don't know how to fix it. Can someone tell me how to restart frozen iPhone without causing any harm to it?"
This is a query recently posted by an iPhone XR user about a frozen device. Ideally, there can be all kinds of reasons for an iPhone to be frozen or bricked. Since it stops the working of the device, we are only left with a handful of solutions. To make it easier for you to fix an iPhone XR/XS/X/8/7/6 screen frozen issue, I have decided to come up with an extensive guide. Apart from that, I have also included some tips to reset frozen iPhone as well. So what are you waiting for? Read on and learn how to reset a frozen iPhone in different ways.
Part 1: Common Causes for a Frozen iPhone
Before we discuss how to restart a frozen iPhone, let's quickly have a look at what could have caused this problem to begin with.
The iOS system could have been crashed due to overloading or a deadlock.
The device might be running extremely low on free space.
A faulty or corrupted app could have frozen your device.
If the device's iOS update was failed or halted in between.
The upgrade to a beta iOS version can also cause this problem.
It can also happen if the device has been recently jailbroken.
A malware or virus could have corrupted the device storage.
The bootloader has been stuck or can't locate the essential system components.
Any other firmware or hardware related issue could have caused it.
Part 2: Check if you Restarted iPhone in the Right Way
First of all, you need to make sure that you have restarted the device the right away. If you have made a mistake, then it might hang your device or produce unwanted results. Here's how you can restart your iPhone correctly.
For iPhone 8 and previous models
Simply press the Power key, which is either on top or side of the device. When the Power slider would appear on the screen, swipe it to turn off your device. Wait for a while and press the Power (side/top) key again to reboot the device.
For iPhone X and later models
Hold the Power and either of the Volume (Down/Up) buttons at the same time. This will make the Power slider appear on the screen. Swipe it from left to right and wait for a while as your device turns off. Afterward, hold the Side button again to restart the iOS device.
Part 3: What if you can't Restart iPhone after Trying
The easiest way to learn how to restart iPhone XS/X/8/7/6 when frozen is by using dr.fone - Repair. It is a professional iOS system repairing tool that has been developed by Wondershare. The application can fix all kinds of minor and major iOS system related issues like a frozen or unresponsive device, the screen of death, device stuck in the reboot loop, and so much more. Its standard mode will even retain the saved files on the device storage and will let you fix your iPhone with no data loss. Since the application supports every leading iPhone model, all you need to do is follow these steps.
Step 1. Connect your frozen iPhone to the system and launch the application on it. From the home page of dr.fone, go to the "Repair" module.
Step 2. Under the iOS Repair section, you can see the standard and advanced mode listings. While the advanced mode would be more sophisticated, it will also erase the data on your device. Therefore, you can first try the standard mode to fix iPhone XR screen frozen.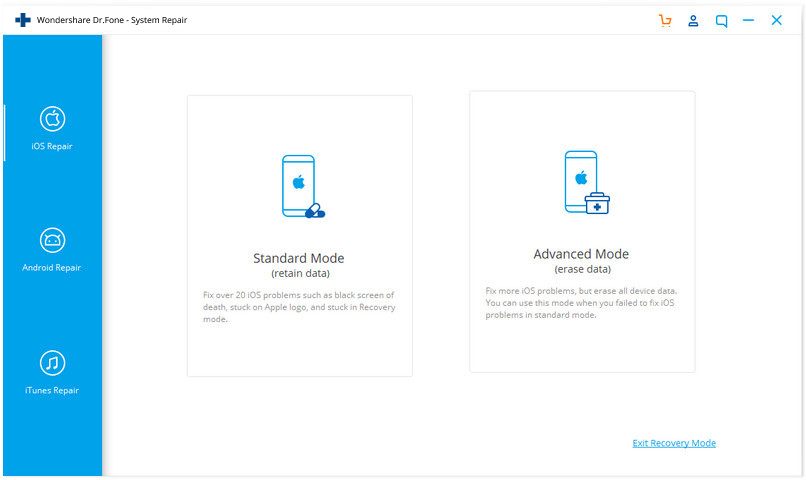 Step 3. Wait for a while as the application would detect your device's model and firmware version. Verify this to make sure your phone is updated to the right version and click on the "Start" button.
Step 4. The application will download the firmware update on the system and would later verify your device again to avoid any compatibility issue.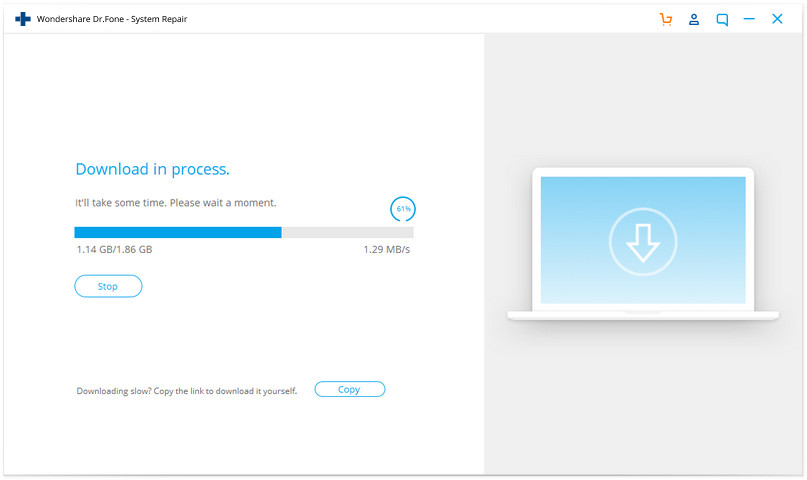 Step 5. Once it is ready, the application will inform you. Just click on the "Fix Now" button and wait for a while as the tool would try to resolve the issue with your device. Be sure that the iOS device stays connected to the system till the process is completed.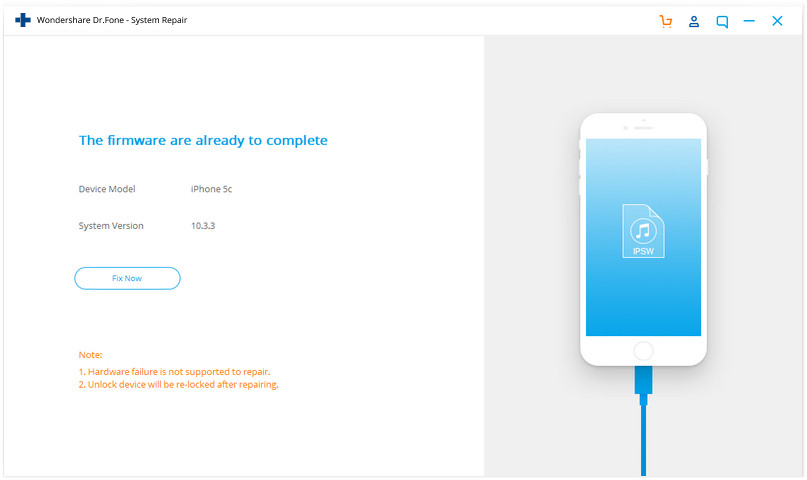 Step 6. In the end, the application will let you know when the process is finished and your device would be restarted as well. You can now safely remove the device and use it the way you like.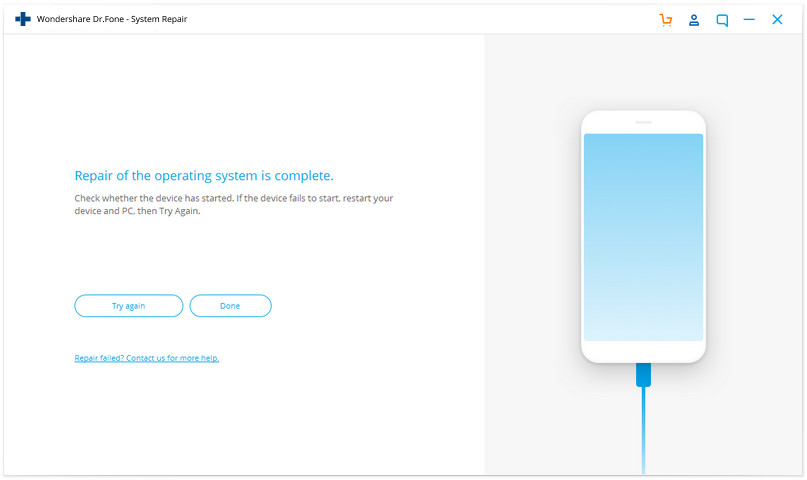 Part 4: Connect to iTunes and Run the Recovery Mode
Apple also lets us resolve most of the issues with an iOS device on our own. One of these native techniques involves booting the device in the recovery mode and using iTunes to restore it. As it suggests, the restoring process would erase the device's stored content and saved settings. Therefore, you should only consider this as your last resort. To learn how to reset a frozen iPhone by booting it into recovery mode, follow these steps:
For iPhone 6s and previous versions
Using a working cable, connect your device to iTunes while pressing its Home button. Keep holding it for a while and release once the device enters the recovery mode.
For iPhone 7/7 Plus
Launch an updated version of iTunes on the system and connect your iOS device to it. While connecting, hold and press the Volume Down button and let go after the iTunes symbol would appear on its screen.
For iPhone 8/8 Plus
Connect your frozen iPhone to iTunes using an authentic lightning cable and hold the Side button while doing so. Keep holding it for a while and release once the iTunes symbol will be displayed.
This will make iTunes detect that there is a problem with your iPhone and would suggest you to restore it. Simply agree to it and wait for a while as your iPhone would be restarted with factory settings. Since this would reset a frozen iPhone, all the existing data on it would be wiped off.
Part 5: Restart iPhone after Booting it in DFU Mode
Apart from the recovery mode, you can also boot your device in the DFU mode as well. It stands for Device Firmware Update and is ideal for upgrading the firmware of the device. While doing so, it will also reset frozen iPhone and fix numerous issues related to its corrupt firmware. As you would press the correct key combinations to boot your device in DFU mode, make sure that the screen stays blank till the end. If it would display the Apple logo or the connect-to-iTunes symbol, then it means you have made a mistake and would have to restart.
For iPhone 6s and older models
Connect your iPhone to the system and launch an updated iTunes application on it. Now, press the Home and the Power buttons at the same time for exactly 10 seconds. After that, only release the Power key while holding the Home button for the next 5 seconds.
iphone6-dfu-mode
For iPhone 7 or 7 Plus
Using a working cable, connect your iPhone to the system and launch iTunes on it. Press the Home + Volume Down keys together for the next 10 seconds. Later, release only the Power key, but keep holding the Volume Down key for 5 seconds.
For iPhone 8 and newer versions
Launch iTunes (the updated version) on your system and connect your iPhone to it. Firstly, press the Side and the Volume Down buttons together for 10 seconds. Now, only release the Side button while still pressing the Volume Down button for another 5 seconds.
If everything is performed correctly, then iTunes will detect that your device is in the DFU mode. You can now restore the device by clicking on the suitable button and reset the frozen iPhone. This will make your device restart in the normal mode without any existing content on it.
Part 6: Check iPhone's Hardware
Sometimes, even a hardware-related issue can also make your iPhone XR/X/8/7 screen frozen. Just make sure that the screen of your device is not broken or it has not suffered from any other damaged. If you want, you can always visit the nearby Apple Service Center to get one-on-one support from an expert.
There you go! After reading this guide on how to restart frozen iPhone, you would surely be able to fix your malfunctioning device. As you can see, most of the solutions would just reset a frozen iPhone to factory settings. If you want to fix your device while still retaining its data, then consider using a reliable tool like dr.fone - Repair (iOS). A highly resourceful application, it can fix all kinds of issues with your device. Since the iOS system repairing tool is extremely user-friendly, no prior technical experience is needed to make the most of it.