Apple continuously works on the betterment of the iPhones or iPads and makes us experience it through the latest update almost every year. Since iOS 13 is all the rage, it is no surprise that every other user want it in their phone as soon as possible. However, there are many users who have recently found updating a little challenging. Many of them come with a complaint, "I can't update my iPhone". If you are also one of those and your iPhone won't let you update to the newest version, keep calm as we are sharing some of the helpful solutions with you. Just have a look and find on your own.
Part 1: Force to Restart iPhone
One of the biggest help that you can get in such issues is by force restarting your device. There are a lot of times when we get bugs in our iPhones and using this method, one can easily get relieved from any minor glitch in the iPhone. Please ensure to follow the steps given below according to your device if your iOS won't update.
iPhone 6 and Below: Press the home button with the power or sleep/wake button on your device. Make sure to keep pressing it until you see Apple logo on it.
iPhone 7 and 7 Plus: Press the volume button and the power button. Now keep doing this and release the buttons when you see the Apple logo on the screen.
iPhone 8 and Later: Press the volume up button and release it instantly. Do the same with the volume down button. Long press the Power button now and release it when Apple logo comes.
Part 2: Check if there is no space for updating
The second basic thing that you need to know is that an update always demands a good amount of space, usually 750-800 megabytes. So before you device to update your iPhone, please ensure that you have enough storage in your device. The device lacking storage might be the reason why iPhone won't update. To do this, here is the guide.
First thing is to open settings in your device and tap on the General option.
Check for the iPhone storage option
You will now be able to see the storage being used and available in the iPhone. Check it and take further actions accordingly.
Part 3: 2 Ways to update iPhone
3.1 Using iTunes to update
One of the ways to update your device is taking the help of iTunes. You all are aware of iTunes if you are an iphone users and there is no surprise in that. Let us learn how you can update your iPhone with the help of iTunes. Follow this carefully and try so that you don't have to complain "iOS won't update" later.
Firstly, launch iTunes on your Mac or PC.
Now, connect your iOS device to it.
Once it is detected, you need to click on the device icon on the top.
After this, choose the Summary tab.
Now, press the Update button and the process is finished.
3.2 Update on iPhone directly
This is the next way that can help you updating your iphone to the latest version. You can use your device and then update your phone. This is how it needs to be done. Again, look at the steps carefully and get rid of the problem of "I can't update my iPhone" in the next moment.
Open "Settings" and go to "General"
Look for the "Software Update" button and there you go.
If any update is present, the device will show up. You simply need to go along with the installation of it.
Part 4: Third party tool to fix iPhone won't update – dr.fone – Repair (iOS)
dr.fone – Repair (iOS) is a tool that can help you fixing your iOS system issues at home. You just need to follow the onscreen instructions and you are god to go. It is completely easy to use and one can use it over their Mac and Windows PC. It works for all iOS versions and models as well as offers really simple process. With this tool, the repair of any iOS issue is easy and so in the case of iOS won't update. To use this tool when your iPhone won't update, here are the steps.
Step 1: To start with, one has to download dr.fone – Repair (iOS) on their computer. For this, just head to the official website of dr.fone. Once it is downloaded, install it and launch. Choose "Repair" tab once launched.
Step 2: You can now connect the device that is giving you the trouble and look when the program detects it. Once done, go for the "Standard Mode" option given on the screen.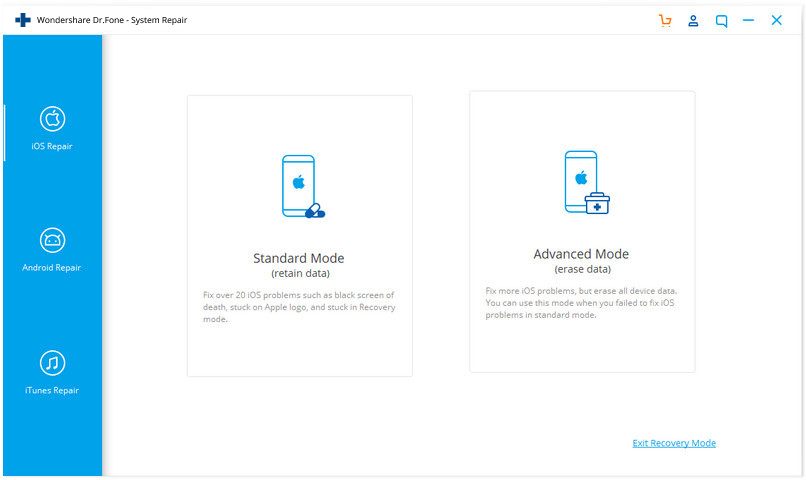 Step 3: Now, you will see the model type of your device as well as the available iOS systems. You need to choose the suitable one and hit on "Start" button.
Step 4: You will notice that the selected firmware will begin to download on your system. Let the program do its task and keep ensure of the network connection to be stable.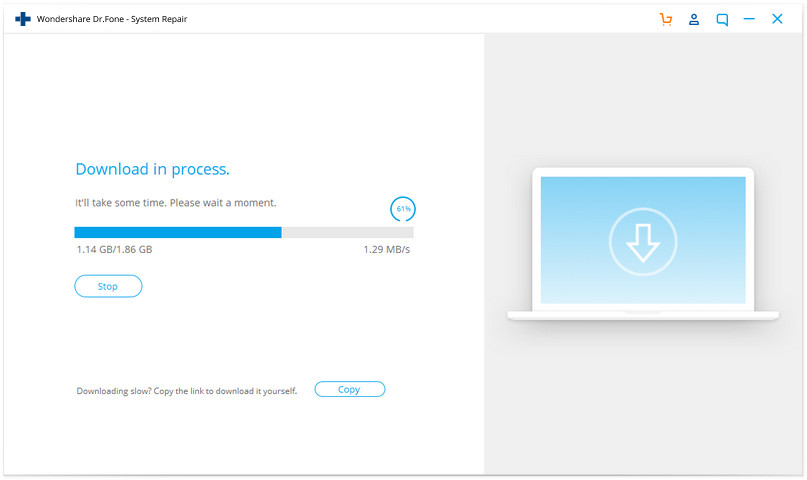 Step 5: The program will verify the firmware and you need to click on the "Fix Now" button to repair the device and the problem.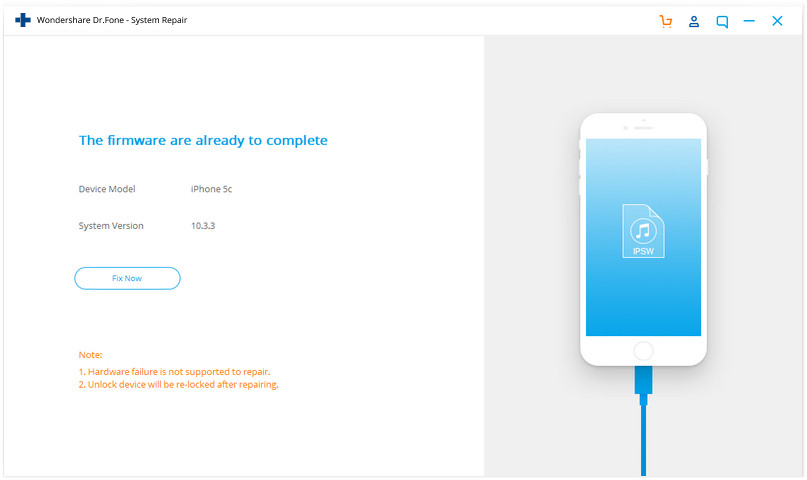 Part 5: Put iPhone in DFU mode
Another savior when iOS won't update is DFU mode. It stands for Device Firmware Update and may include little complicated steps. We have mentioned the steps for each device for your convenience. The steps are as follows:
iPhone 6, 6 Plus or earlier:
Hold the power button and the home button in your iphone. Now after 5 or 6 seconds, release the power button only.
Make sure you are holding the other button still and wait like this for a few seconds. This will take your iPhone into DFU mode and iTunes will let you know about the same.
iPhone 7 and 7 Plus:
Hold the power button plus the volume down button altogether. After 5 to 6 seconds, you should release the power button.
Like above, keep holding the volume down button and wait. iTunes will bring a window where it tells the device is detected in DFU mode.
iPhone 8, 8 Plus, X and Latest:
For this type of phones, press the volume up button. Now press the volume down button. After this, press the power button for long.
Your iPhone screen will go black and at that time, you should release the power button only. As the iTunes informs you about the detection, it is a hint that your iPhone 8/8 Plus or other has gone into DFU mode.
Part 6: Factory Reset your iPhone
If still you have not got any results, you are left with one solution and that is resetting your device. Once you follow this method, you will lose all your existing data and the device will go into the factory state. The steps that you should follow are given below.
Go to "Settings" in your iPhone and tap on "General".
After this, tap on "Reset".
You gotta choose "Erase All Contents and Settings" and again tap erase iPhone to confirm.
Final Verdict
This is what you need to go for when your iPhone will not update. We made you familiarize how you can troubleshoot such issue and what are the two ways through an iPhone can be updated. We now hope that you have understood everything well and can do everything on your own. Still if you have any complaints or queries, you can share with us by dropping a comment below. Also, please do share the views on this article.