Seeing iPhone black screen is nothing new to the users and it really disturbs them. Imagine the situation where you completely know that your iPhone is on but it doesn't seem like. You can't receive the call nor can you make the urgent one. Explaining the situation to someone who hasn't experienced the same can be weird. However, you are at the correct place where we understand that you aren't wrong. Through this article, we will illustrate how you can fix the iPhone that goes black on your own. Also, we will put light on the major trigger points for the problem. Please scroll down and explore more.
Part 1: Main causes for iPhone black screen
First, let us know what are the things that can make iPhone screen goes black for a second or for long. Basically, there are two things that can cause the issue. These are software and hardware. Various scenarios can cause this issue. To make it clear, we have given you a following table to figure out the potential reason.
| | |
| --- | --- |
| Software Problem | Hardware Problem |
| When you upgrade to the newest iOS, bugs like this can appear | If the device dropped into the ground |
| When you jailbreak your device | Any physical damage |
| Corrupted software or software crash | Water damage |
| Device gets frozen | Battery failure issue |
| Apps crashing | Motherboard short circuit |
| When you downgrade the iOS firmware | Problem with the display |
| Malware or virus attack | Accumulated dirt |
| When you have insufficient memory, your device may start to hang up and result in this issue | Too much exposure to heat or cold |
| When you flash unsigned iOS firmware which is corrupted | Display zig cable is not connected properly to the motherboard |
| When the unknown errors crop up while updating or restoring the device with iTunes | Connecting an incompatible charger may result in sudden power surge, eventually, causing this issue |
Part 2: Manually fix iPhone black screen without computer
1. Hard reset your iPhone
Fixing iPhone 7 plus black screen or any other model is pretty painless and one of the troubleshooting steps includes hard resetting the device. This has been proved to be helpful to majority of users and hence we recommend you to go along with it in the first place whenever you see your iPhone screen goes black for a second. It does nothing but abolish any wrong operations running in the background by giving a fresh reboot to the device. The steps to force reboot iPhone for different models vary. We will demonstrate all. Please read carefully.
For iPhone 6, 6S and earlier models:
If you are stuck with iPhone 5s black screen, iPhone 6S black screen and previous models than this, you simply need to long press the "Home" button and the "Sleep/Wake" (Power) button simultaneously. Keep doing this for nearly 10 seconds. When you start seeing the Apple logo on your screen, release the fingers from the buttons and your iPhone 6 or previous phone will be forcefully restart.
For iPhone 7 and 7 Plus:
Seeing iPhone 7 black screen, you don't just sit idle and start pressing the "Volume Down" button along with the "Power" button. Continue pressing these until you get a sight of the Apple logo on the iPhone screen. The 7 series of iPhones will force restart this way and we hope this fixes the black screen of death.
For iPhone 8, 8 Plus, X, XR and latest models:
Since there are no Home buttons in these models, the steps to be followed are a little different. Firstly, you have to slightly press and release the "Volume Up" button. Then press and release the "Volume Down" button. After this, hold down the "Power" button for long until Apple logo comes on the screen. Release the button and we hope that iPhone X black screen or iPhone 8 black screen issues vanishes.
2. Try to charge your iPhone
It might sound silly but it is indeed a serious thing to be thought. Many times we neglect the fact that the device isn't charged. There is nothing wrong with it. We are usually busy with other crucial stuff that can make these minor things slip from the mind. Hence, we recommend you to once check the battery of your device. Put it on charge and see if the iPhone went black due to dead battery. Check if it works or not. In case nothing is changed and you still find the iPhone black screen, then the following section will be of assistance for you.
Part 3: Get help from third party tools or iTunes on computer
1. Factory restore iPhone with iTunes (data loss)
Resetting iPhone to the factory state using iTunes can be helpful to you. However, we would suggest taking backup of your device first if you want to try out this method. This is simply because factory resetting or restoring means deleting everything from the device as it will go the state like it was brought from the factory. Here are the steps.
Open iTunes and connect your iPhone with the computer using original lightening cable.
Now, click on the device icon when you are in the iTunes interface.
Hit on "Summary" tab on the left panel.
Lastly, click on "Restore iPhone".

Your device will be restored to the factory settings and all the settings will go in default state. Also, the existing data will be removed from the device.
2. Better Tool to fix iPhone Black Screen – dr.fone - Repair (iOS) without data loss
In case you don't wish to opt for the above solution for it results in data loss, here is what comes to your rescue. You need dr.fone - Repair (iOS) – a tool designed to repair any sort of software malfunctions and that too sans any data loss. It offers an easiest process to fix the iOS issues. No matter what iOS device you own, it is able to work with any without any complications. It can easily work with Windows and Mac operating systems. Let us know how you can fix the iPhone black screen problem using this wonderful tool.
Step 1: Get the Tool
To begin with, you need to visit the official website of dr.fone and download the tool from there. Complete the installation and then open the tool. Now, when you enter the main interface, make sure to click on the "Repair" option.
Step 2: Choose Mode
Get the lightening cable with you can use it to plug your iPhone to the computer. When the device gets successfully connected, you need to select the "Standard Mode" from the two modes given.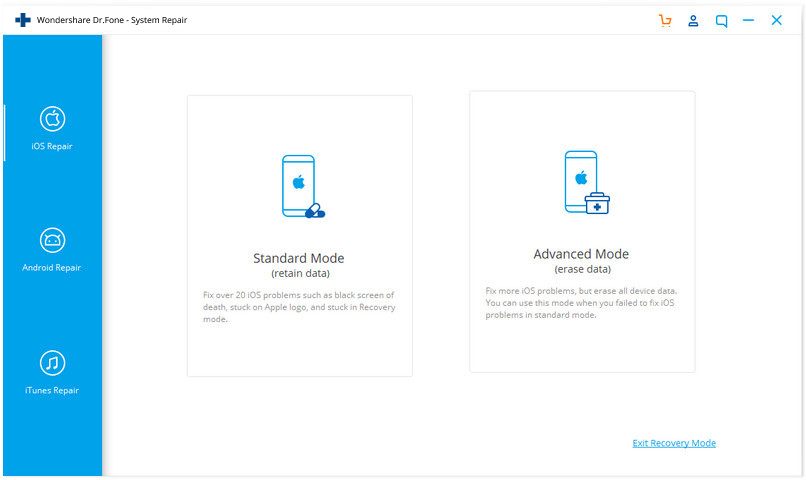 Step 3: Begin the Process
The program will now show the device details by detecting it successfully. It will now show you the available iOS system versions. You need to select one and hit on "Start" button.
Step 4: Download Firmware
When you hit on "Start", the program will begin to download the selected iOS version. Make sure that connection is stable and keep patience as the downloading may take time for it is large in size. In case the firmware downloading is giving hard time, you can click "Download" button to further the process.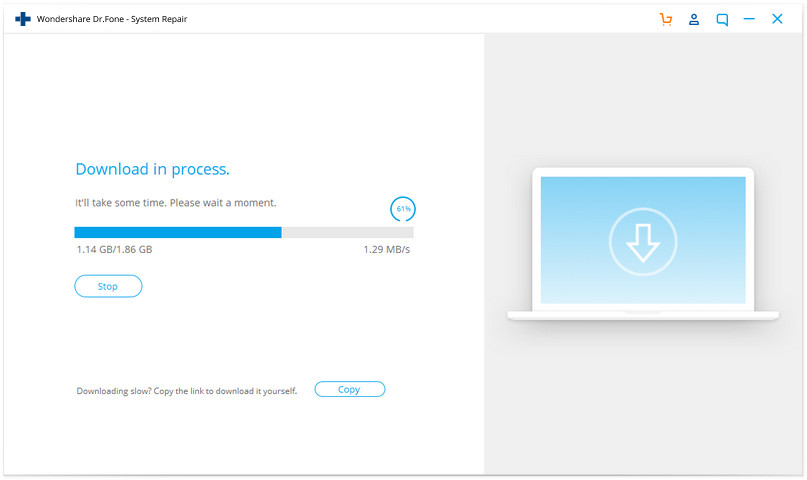 Step 5: Fix the iPhone blank screen Issue
The program will now verify the iOS firmware. Once it is completed, click on 'Fix Now" button. It will start to resolve the iOS issue and will make your device work again properly.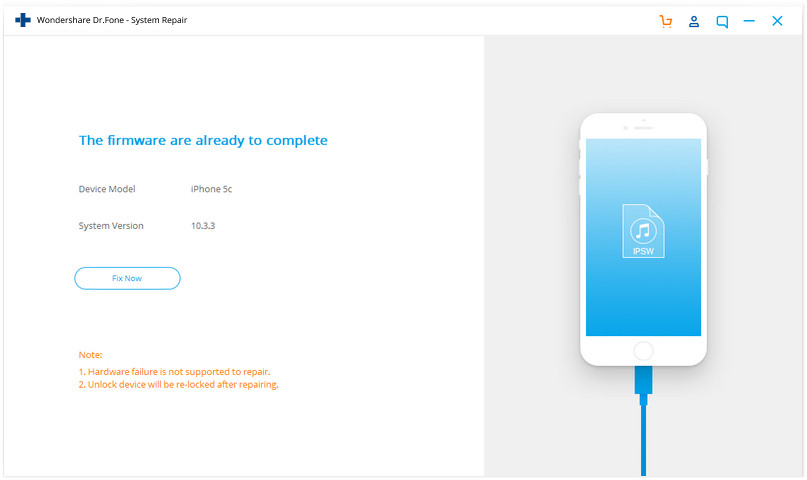 Part 4: Hardware problem check
There are times we can't figure out and the problem lies with the hardware and not software. In case you have tried the above solutions and they went in vain, we doubt there must be some hardware problems that are culprit. Therefore, we would like to provide you with some tips. Have a look.
1. Try a different a USB port
First of all, you need to check your USB port. See if there is some dirt or debris inside it. Clean it if there is any. This can stop your device working appropriately and might be the reason why your iPhone went black.
If that doesn't work, make sure to change the USB port. Try to connect your device to the other USB port in the computer. If that works, then the problem must be with the port.
2. Go to Apple Store to have a Screen Replacement
Perhaps, the problem is with your display itself. Therefore, as the second tip, we would like to suggest you to rush to the Apple Store. Show the team your iPhone black screen and ask them to replace the screen.
3. Go to Apple Store change a Battery
If screen replacement is a no for your device and you still see the iPhone black screen, then you need to change the battery. Most probably the battery has gotten defect and is the culprit. For this, walk to the nearest Apple Store and get your device's battery changed.