"Someone please help me as my iPhone 7 has been stuck on the iTunes screen. I just connected it to iTunes to transfer my data, but now it is not responding at all!"
As surprising as it might sound, getting the iPhone stuck on iTunes screen is quite a common problem. Sometimes, it happens due to a software related issue while at times, users unintentionally boot their device to recovery mode. It doesn't matter what the condition is, getting the iPhone stuck on connect to iTunes screen is a situation that no one wants to face. The good news is that there are some simple ways to fix this. Let's get to know about these specific iOS solutions in detail.
Part 1: What will cause the iPhone stuck on iTunes screen issue?
To fix the iPhone stuck on connect to iTunes screen and won't restore problem, it is important to diagnose the situation at first. Mostly, following are some common reasons for causing the iPhone stuck on iTunes screen.
The bootloader of the device is not functioning, causing it to be stuck in the recovery mode.
The iOS device has been booted to the recovery mode by mistake.
There is a firmware issue with the device, causing it to malfunction.
You are trying to update a jailbroken device.
A fault in the connecting cable, port, or any other physical damage
The device's storage has been corrupted or there is no free space on it for the update.
A faulty app or malware has corrupted the device storage.
Part 2: Force Reboot your iPhone if you haven't Already
This is mostly the first thing that iPhone users do to fix their malfunctioning device. In case if you haven't tried this technique already, then apply the correct key combinations to forcefully restart your device. Beforehand, make sure that your iPhone is not connected to iTunes. If it is, then just remove the connecting cable and forcefully restart your iPhone. This is a recommended solution as it will not cause any data loss on the device and would fix minor issues easily.
For iPhone 6s and previous phones
Simply press and hold the Home and the Power buttons at the same time for a while. Ideally, in 10 seconds, the device would be restarted. You can now release the buttons.
For iPhone 7 and 7 Plus
Press the Power and the Volume Down buttons at the same time for at least 10 seconds. Let go when your iPhone would be restarted.
For iPhone 8 and newer phones
Firstly, quick-press the Volume Up key. That is, just tap in for less than a second and let go. After that, quick-press the Volume Down key. Once you release it, press and hold the Side button for a few seconds. Make sure that you do this in succession without any gap in between.
Part 3: Take Advantage of a Useful Tool: dr.fone - Repair (iOS)
If a force restart is not able to fix the iPhone X/8/7/6 stuck on iTunes screen, then you need to follow a more sophisticated approach. Most of the experts recommend using dr.fone - Repair (iOS), which is a dedicated tool to fix all kinds of iOS and iTunes related faults. It will fix an iPhone stuck on connect to iTunes screen or a device stuck in the recovery mode without any trouble. While doing so, it will retain the existing data on your phone and will ultimately boot it in the normal mode with no data loss.
The tool is fully compatible with every leading iPhone model like iPhone 5, 6, 7, 8, X, XS, XR, 11, 11 Pro, and so on. Also, since it is so easy to use, you will not need any technical experience to work on it. Just follow a click-through process to fix iPhone 6/7/8/X stuck on restore screen. Here's how you can fix iPhone stuck on iTunes screen using dr.fone - Repair (iOS).
Step 1. At first, connect your faulty iPhone to the computer (Windows or Mac) and launch the dr.fone toolkit on it. From its welcome screen, you need to visit the "Repair" section.
Step 2. Under the "iOS Repair" interface, you can switch between the Standard and the Advanced mode. A standard mode can fix all the major iOS issues without any data loss. On the other hand, an advanced mode will wipe your device, but would also yield better results. Firstly, you can go with the standard mode and analyze its results.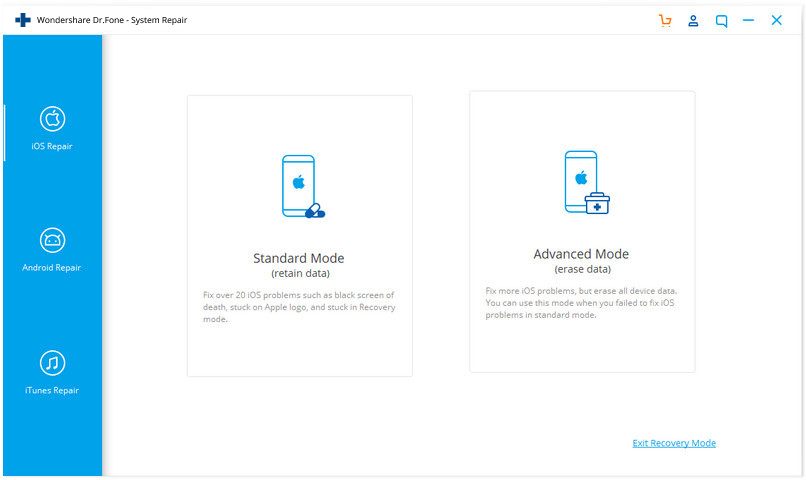 Step 3. Since your iPhone is already connected, dr.fone will detect it and would display its model and the compatible firmware. Make the desired changes (if needed) and click on the "Start" button to fix it.
Step 4. This will make dr.fone download the latest available firmware for your iOS device. Since this might take a while, you are recommended to be patient and not disconnect your device as of now.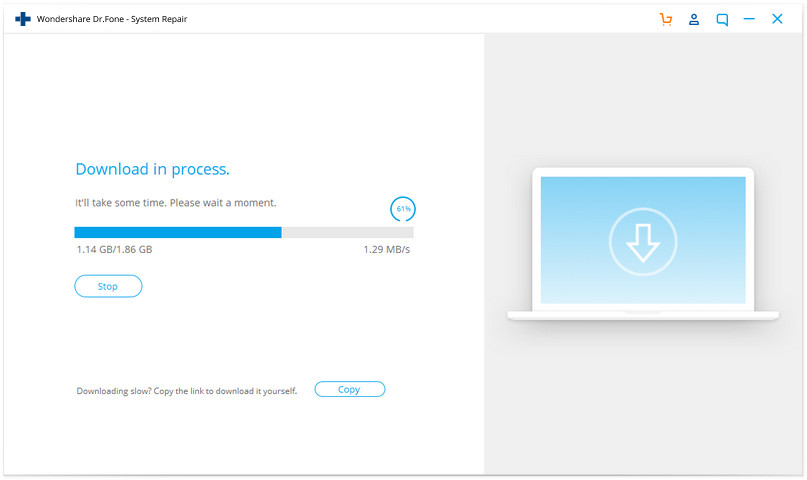 Step 5. Once the download is completed, the application will quickly verify your device to avoid any compatibility issue.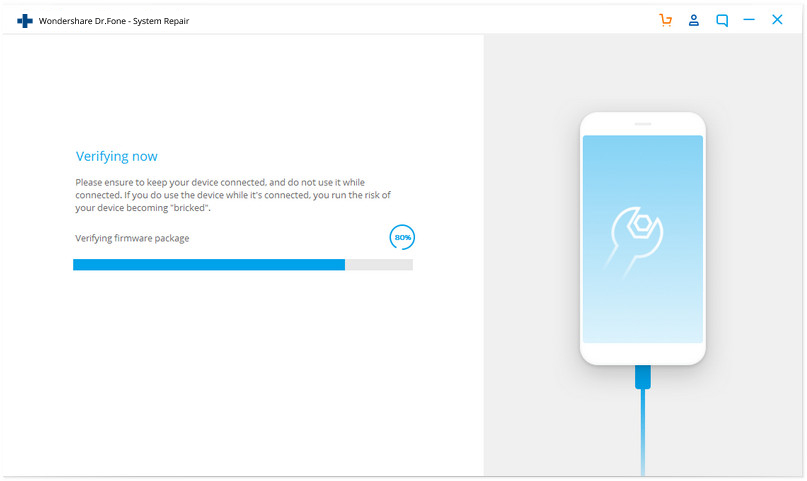 Step 6. After verifying everything, the application will notify you. Now, all you need to do is click on the "Fix Now" button to resolve the iPhone stuck on iTunes restore screen problem.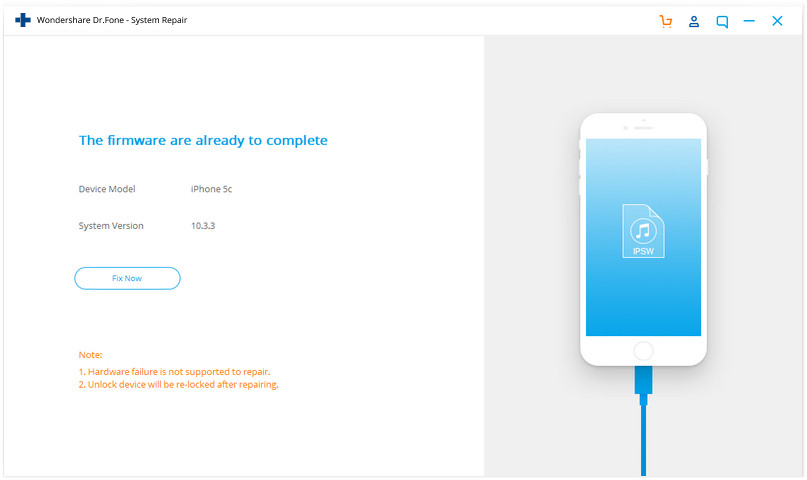 Step 7. It might take a while for the application to fix your device and restart it normally. Simply hold on for a few minutes as the application will fix your iPhone.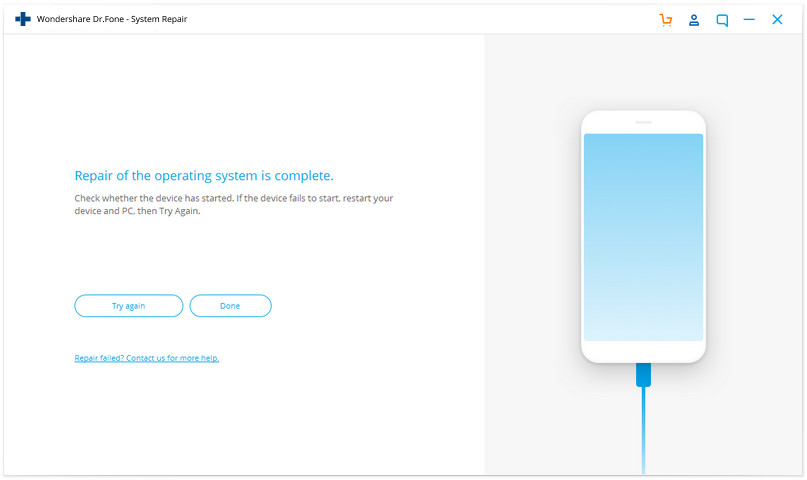 That's it! Now, you can just remove your device from the system whenever you want. In case if the standard mode has not provided the desired results, then you can follow the same process. Though, this time, you can choose the advanced mode instead.
Part 4: Free Tool to Fix the Issue: RecBoot
If your iPhone has been stuck in the recovery mode, then you can also take the assistance of RecBoot. It is a freely available tool that runs on every leading version of Mac or Windows system. You can just download it on your computer and use it to enter or exit the recovery mode on iPhone. In just one click, it would exit the recovery mode on your device without causing any data loss on it. The only problem is that the success rate of RecBoot to fix iPhone stuck on iTunes screen is not as high as dr.fone - Repair (iOS).
To fix the iPhone stuck on connect to iTunes screen issue, simply connect your device to the system using a working cable. Now, make sure that iTunes is not running on the system. Instead, install and launch RecBoot on your Windows or Mac. The "Status" option will show that your device is connected. Now, click on the "Exit Recovery Mode" and confirm your choice.
Wait for a while as your device would exit the recovery mode and boots in the normal mode. In the end, you will be notified with the status message and can safely remove the device from the system.
Part 5: Get Technical Assistance from Experts in an Apple Store
Lastly, if none of the above-listed DIY tools seem to work and fix iPhone stuck on iTunes screen, then consider visiting an authorized Apple store. You can look up for the nearby service center location on the official website of Apple. There, you will get dedicated assistance from an expert, solving all kinds of issues with your device. Though, you should note that the service might come with a heavy price if your phone is not on insurance or warranty period.
There you go! After reading this guide, you would certainly be able to fix iPhone stuck on connecing to iTunes screen and won't restore like a pro. If a force restart won't fix this, then consider using a dedicated tool like RecBoot or dr.fone - Repair (iOS). Ideally, dr.fone has a much higher success rate and can fix all kinds of other issues with your device as well. That is why, it is recommended to keep the tool handy as it can save the day in any unwanted scenario. If you want, you can install the application on your Windows or Mac by visiting its website or even try its free version without spending anything.